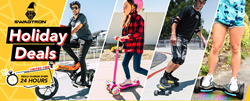 DENVER (PRWEB) November 26, 2020
SWAGTRON®, the affordable—swag—choice in innovative, quality electric rideables for riders of all ages, today is announcing its lowest prices of the year plus free shipping on hoverboards, electric scooters, e-bikes, and electric skateboards by giving shoppers the opportunity to receive up to $100 or more off select rideables. Deals change every 24-hours at Swagtron.com/deals.

SWAGTRON is offering its latest upgrade SG5 Boost electric scooter under $300.
Save $155 plus additional $40 coupon on SWAGTRON's new SWAGGER 7T Transport electric scooter.
SWAGTRON's new kids TWIST T580 hoverboard with LiFePo™ battery safety technology under $110.
SWAGTRON's new K8 Kick Scooter with swag kid friendly colors starting at $79.99.
Save $70 on the new EB5 Pro Plus electric bike with swappable battery.
All Deals change every 24-hours, while supplies last at Swagtron.com/deals
All discounts are taken off current sales prices, meaning even bigger savings when compared to MSRP. And as always, SWAGTRON offers free shipping anywhere in the continental U.S.
SWAGTRON HOLIDAY GIFT IDEAS + SALE PRICES
Shoppers can save on every single item at SWAGTRON.com (or several of them); these are just a few of their favorite gifts for kids.
SWAGTRON SWAGGER 7T TRANSPORT ELECTRIC SCOOTER
PRICE AFTER DISCOUNTS: $359.99 | MSRP $555.00 | TOTAL SAVINGS $195
SWAGTRON SWAGBOARD T580 TWIST HOVERBOARD WITH LiFePo BATTERY SAFETY TECHNLOGY – SAFETY IS SWAG
PRICE AFTER DISCOUNTS: $109.99 | MSRP $130 | TOTAL SAVINGS $20.01
SWAGTRON SWAGGER SK3 KIDS ELECTRIC SCOOTER w/ LED WHEELS & KICK-START MOTOR
PRICE AFTER DISCOUNTS: $89.99 | MSRP $160 | TOTAL SAVINGS $70.01
Prices good while supplies last. Black Friday and Cyber Monday discounts valid only at Swagtron.com/deals.
GET SOCIAL: @SWAGTRONusa on Facebook, TikTok & Twitter; @SWAGTRONofficial on Instagram
ABOUT SWAGTRON®
SWAGTRON is an industry leader in affordable e-rideables for all ages. Having evolved as the forefront brand in its category, SWAGTRON was celebrated for being a first brand to offer UL-2272 certification and the first-to-market with LiFePo™ batter technology for electrical and charging safety on their hoverboard lines: Safety is Swag. SWAGTRON continues to expand its line of quality, innovative rideable products including electric bikes, electric scooters, hoverboards (swagBOARD), electric skateboards (swagSKATE) while maintaining affordability for all. For more information, visit Swagtron.com.