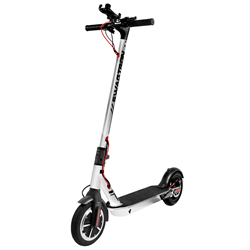 COSTA MESA, Calif. (PRWEB) November 19, 2018
SWAGTRON™, the undisputed leader in electric rideables, today announces early Black Friday deals on its best-selling Swagger 5 Elite Electric Scooter, as well as a limited Silver Edition.
Starting today, the Swagger 5 Elite can be purchased at Swagtron.com for $359.99, $50 off the MSRP of $410. Entering Swagtron promo code "pro_save_40" at checkout will take an additional $40 off the current sale price.
In addition, Swagtron will be debuting a limited Silver Edition of the Swagger 5 Elite on Black Friday (November 23, 2018), which will be available for $379.99 ($30 off MSRP) at Swagtron.com while supplies last.
The Swagger 5 Elite is the brand's premium, folding, electric, commuter scooter, featuring a powerful 250-watt motor, 18 mph top speed and an 11-mile range. Recent updates include an airless rear tire featuring internal "honeycomb" technology to eliminate flats, and an upgraded battery for improved range and performance.
SWAGGER 5 MEDIA KIT + HIGH-RES PHOTOS
Riders can pair their smartphone with the Swagger 5 Elite via Bluetooth® and use the included bar mount to turn it into a real-time heads-up display. Use the app to activate cruise control, select one of three speed modes, plan your route with GPS, control the headlight and more. The app also includes a theft-deterrent lock and alarm mode.
Speed and basic stats can also be viewed on the vibrant bar-mounted LED display. A rear disc brake paired with regenerative braking in the front hub make your ride safer and more efficient. An LED headlight and brake light keep you visible when daylight ends before your ride does.
Other Swagtron Black Friday Deals include $50 off the EB5 Folding Electric Bike, $100 off the Swagcycle PRO Pedal-less Electric Bike, $100 off the Swagskate Spectra Mini A.I. Electric Skateboard and $100 off the Swagboard Elite T380 Hoverboard with Bluetooth.
The Swagger 5 Elite is the Official Electric Scooter of the Chicago Cubs and Wrigley Field.
SWAGGER 5 ELITE FEATURES + SPECS

250-watt motor
iOS/Android app enabled
Three speed modes
8.5-inch wheels
Airless honeycomb rear tire, air-filled front tire
Folding aluminum for easy storage and transport
18 mph top speed (motor only)
11-mile battery range
LED display
Handlebar throttle, brake and safety bell
Regenerative braking
Maximum ride weight: 320 lbs
Available in black or silver (limited time only)
GET SOCIAL: @SwagtronUSA
ABOUT SWAGTRON
SWAGTRON is the industry leader in electric rideables, having evolved as the forefront brand in its category. SWAGTRON was celebrated for being one of the first brands of electric rideables on the scene to offer certification by Underwriters Laboratories (UL), an independent consumer product safety company. Every SWAGTRON e-product is tested and approved according to UL standards. SWAGTRON continues to expand and improve its line of innovative rideable products.
Media Contact: Don Stefanovich | DonS@Zake.com