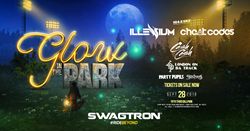 "Like the music and atmosphere these artists create, Swagtron rideables truly need to be experienced first hand. Together we're going to create an evening no one will soon forget."
GRAND RAPIDS, Mich. (PRWEB) September 14, 2018
Swagtron™, the undisputed leader in electric rideables, today announces an official partnership with Glow in the Park, Michigan's newest electronic music fest.
Glow in the Park is an entirely new electronic music festival and the first of its kind to be held at Fifth Third Ballpark, home of the West Michigan Whitecaps. Presented by iHeartRadio's 104.5 WSNX, West Michigan's No. 1 Hit Music Station, Glow in the Park features headliners multi-platinum artist Cheat Codes and the red hot bass producer, Illenium, along with Cash Cash, The Party Pupils, SN0WMASS and London On Da Track.
Swagtron is sponsoring discounted pit tickets (now $79 instead of $99), a 300-foot electric "Glow Track" for racing and demoing its electric bikes and scooters, and an online contest that will provide three winners each with a pair of VIP tickets and a Swagcycle PRO ebike. The winners will also race against each other onsite for a chance to meet headliner ILLENIUM.
"We're excited to align our brand with such an extraordinary musical event," says Chief Marketing Officer Jason Wakefield. "Like the music and atmosphere these artists create, Swagtron rideables truly need to be experienced first hand. Together we're going to create an evening no one will soon forget."
Swagtron will have some of its most popular electric bikes and scooters on site for demos and races, including the Swagcycle PRO, EB1, EB5, EB8, Swagger 5 and Cali Drift. Fans will also have the chance to enter onsite to win a Swagcycle PRO signed by the artists.
The 300-foot "Glow Track" will be lined with LED and neon lights and surrounded by several LED walls and glow-in-the dark graffiti art. A practice arena will give riders the chance to hone their skills before taking to the track, and the official Swagtron Charging Station will keep rideables topped up between laps.
In addition, Glow in the Park will also feature Glow foam cannons on either side of the stage and a silent disco overlooking the main stage which will showcase music from local artists. Attendees looking for a quick break from the music can chill in the Glow Zone.
For more information, to purchase tickets or to enter to win, visit the official Glow in the Park site at GlowintheParkMusicFest.com
RACE TO MEET ILLENIUM CONTEST DETAILS (3 Winners)

Two (2) VIP Tickets for Glow in the Park
One (1) Swagcycle PRO e-bike
Race for a chance to meet Illenium
Enter to win HERE
ABOUT ILLENIUM
Denver based Nick Miller, better known by his stage name ILLENIUM, has won the hearts of dance music aficionados worldwide through his captivating remixes and enthralling original productions. ILLENIUM's impeccable sound design has established him as one of the best producers in the game, displaying an adeptness for creating aural arrangements that vary in style, complexity and emotional depth. His stunning records come to life in his live show, where he incorporates keyboards, drum pads, and cutting-edge visuals—all of which combine to create a stunning, immersive experience.
ABOUT SWAGCYCLE PRO
The Swagcycle PRO builds on the success of the original Swagcycle with the addition of an iOS/Android app, longer battery life and an improved top speed of 18 miles per hour. Like the original Swagcycle, it's a fully electric pedal-less "scooter bike" featuring a compact, folding design—one of the smallest e-bikes available. The PRO's 350-watt motor makes for a zippy ride, and dual disc brakes are standard. Perfect for fun cruises, enhanced mobility, even short commutes. Top speed: 18 mph. Range: 15.5 miles. MSRP: $600
ABOUT SWAGTRON
SWAGTRON is the industry leader in electric rideables, having evolved as the forefront brand in its category. SWAGTRON was celebrated for being one of the first brands of electric rideables on the scene to offer certification by Underwriters Laboratories (UL), an independent consumer product safety company. Every SWAGTRON e-product is tested and approved according to UL standards. SWAGTRON continues to expand and improve its line of innovative rideable products.