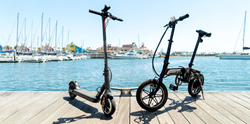 "Electric scooters and e-bikes are proving to be extremely popular gift ideas during the 2018 holiday season."
COSTA MESA, Calif. (PRWEB) December 07, 2018
SWAGTRON™, the most trusted brand in UL-certified light electric vehicles (LEVs), today presents "Buy Like a Pro: The Electric Scooter and Electric Bike Holiday Buyer's Guide."
The guide is aimed at helping consumers make informed choices when it comes to e-bikes and electric scooters for sale, regardless of brand. The comprehensive, multi-part piece covers basics like how electric rideables work, with an overview on electric motors, batteries and even regenerative braking.
LEARN MORE: "Buy Like a Pro: The Electric Scooter and E-Bike Holiday Buyer's Guide."
"Electric scooters and e-bikes are proving to be extremely popular gift ideas during the 2018 holiday season," says Jason Wakefield, CMO. "As the leader in that space, we are sharing some content that is fun and informative to help take the stress out of holiday shopping."
SWAGTRON examines economic and environmental benefits of commuting by electric scooter or bike, the differences between pedal-assist and throttle-activated e-bikes, and even touches on laws about electric scooter and e-bikes.
The guide also aims to answer common questions such as "Which e-rideable is best for me?" and "Where to buy your e-rideable?"
Other topics include UL certification, performance, value, what features are important and detailed walkthroughs of what to look for when purchasing electric scooters and e-bikes, and why.
Learn more at SWAGTRON.com.
GET SOCIAL: @SwagtronUSA on Facebook and Twitter / @SwagtronOfficial on Instagram
ABOUT SWAGTRON
SWAGTRON is the industry leader in electric rideables, having evolved as the forefront brand in its category. SWAGTRON was celebrated for being one of the first brands of electric rideables on the scene to offer certification by Underwriters Laboratories (UL), an independent consumer product safety company. Every SWAGTRON e-product is tested and approved according to UL standards. SWAGTRON continues to expand and improve its line of innovative rideable products.