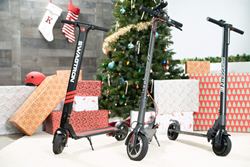 DENVER (PRWEB) November 26, 2019
SWAGTRON™, the leader in affordable light electric vehicles, today unveils its lowest prices of the year on hoverboards, electric scooters, e-bikes and electric skateboards.
To celebrate Black Friday and Cyber Monday, SWAGTRON is offering 10 percent off all SWAGTRON.com purchases with code SHOP2019 now through Tuesday, December 3.
Shoppers can also participate in the "Give 5, Get 5" component of the recently launched "Giving Is Swag" charity drive. Entering code GIVING-IS-SWAG at checkout takes 5 percent off any purchase while donating an additional 5 percent to Toys For Tots.
SWAGTRON is also matching the first $10,000 in donations in-kind, which means shoppers can not only receive 5 percent off site-wide, but know that up to 10 percent of their purchase will benefit less fortunate children this holiday season.
All discounts are taken off current sales prices, meaning even bigger savings when compared to the MSRP. And as always, SWAGTRON offers free shipping anywhere in the continental U.S.
Prices good while supplies last. All Black Friday and Cyber Monday discounts valid only at SWAGTRON.com.
GET SOCIAL: @SwagtronUSA on Facebook and Twitter, @SwagtronOfficial on Instagram
ABOUT SWAGTRON
SWAGTRON is the industry leader in light electric vehicles, having evolved as the forefront brand in its category. SWAGTRON was celebrated for being one of the first brands of electric rideables on the scene to offer UL certification for electrical and charging safety. SWAGTRON continues to expand and improve its line of innovative rideable products to make micro mobility solutions accessible to everyone. Learn more at Swagtron.com.
Media Contact: Don Stefanovich | DonS@Zake.com