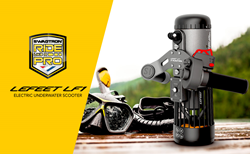 "Not only is the LF1 an underwater scooter, but it's also a portable engine, that you can attach to any watercraft," says Chief Marketing Officer, Jason Wakefield. "Affix it to a paddleboat. Make your own electric kickboard. Or use it as a kayak propeller."
SOUTH BEND, Ind. (PRWEB) July 20, 2020
The LF1 by Swagtron holds the distinct honor of being one of the only electric underwater scooters with a TSA-compliant battery that's approved to be taken on board a plane with you. For divers who are flying to their destination, traveling is as simple as disassembling the LF1 and stowing it in a backpack or carry on. Lightweight, the LF1 weighs just 5.07 pounds.
The LF1 is waterproof up to 131 feet (40 meters), letting divers of all experience levels dive deeper into bodies of fresh or saltwater, from swimming pools to oceans. The LF1 comes with a single-jet handgrip, wrist strap, and wireless remote control that can pair to and control up to 6 motor units simultaneously.
The LF1 was developed with a clear strategy: durability, usability, and flexibility. Its modular design lets divers modify and customize the electric water scooter based on your needs using a number of accessories (sold separately). Accessories include a dual jet rail kit, scuba mount kit, or multi-purpose mount kit.
Other undersea scooters are made primarily from plastic. But the LF1 electric diving scooter using an ultra-durable aircraft-grade aluminum shell that delivers the ruggedness and longevity other plastic water scooters simply cannot match. The front cap is composed of reinforced ABS materials, specifically designed to absorb direct impacts from drops. The high-precision, water-cooled motor with an aluminum heatsink is optimized for longevity, durability, and reliability in saltwater settings, thanks to the water-cooled motor with an aluminum heatsink. The propeller covers are made with fiberglass-reinforced vinyl. In the case of emergency, the rear propeller guard can be easily removed with tools (even underwater) to remove any obstructions that might get caught during exploration.
The LF1 uses our LiFePO4 battery technology with an enhanced safety profile. This battery technology is more efficient than traditional rechargeable batteries, able to be fully charged in two hours. It's also fully removable, letting divers swap out the flat battery with a fresh, second battery (sold separately) to continue the underwater adventure. (The wireless remote control can also be fully charged in 90 minutes or less.)
FEATURES + SPECS

Powerful three-speed motor delivering up to 15.4 pounds of thrust
Removable TSA-compliant LiFePO4 battery w/ 2-hour charge time
Wireless remote that can pair with/control up to six motor units
Modular design for upgrades and additional accessories
Up to 90-minute runtime (30 minutes on max. speed)
Ultra-durable Aircraft-grade 6061 aluminum shell
Lightweight (5.07 lb.) and compact design
Waterproof up to 40 meters (131 feet)
Impact-resistant ABS nose cover
Max. speeds up to 3.35 m.p.h.
Negative buoyancy of 1.1 kg
Integrated camera mount
Auto power conserve
One-year warranty
The LF1 is on sale for $599.99 ($666.65 MSRP) respectively and is available now through Swagtron.com, Amazon.com, and select retailers.
GET SOCIAL: @SwagtronUSA on Facebook, Twitter, and TikTok. @SwagtronOfficial on Instagram
ABOUT SWAGTRON®
SWAGTRON is the industry leader in electric rideables, having evolved as the forefront brand in its category. SWAGTRON was celebrated for being one of the first brands of electric rideables on the scene to offer certification by Underwriters Laboratories (UL), an independent consumer product safety company. SWAGTRON continues to expand and improve its line of innovative rideable products, making alternative e-powered transportation and recreation options more accessible to everyone.