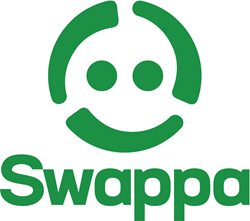 "Being sold a blacklisted phone wasn't worth the high speed chase that almost happened, but it was the motivation to create a better, safer marketplace," said Ben Edwards, Founder and CEO of Swappa.
KANSAS CITY, Mo. (PRWEB) November 18, 2019
No stranger to taking on major brand competitors, Swappa, known as the safe and friendly marketplace to buy and sell used consumer electronics, is set to challenge traditional local online marketplaces with its innovative people-powered practices and "no junk" policies. Swappa has rolled out its new Swappa Local service in more than 30 metros. Aligning with the company's commitment to safety and simplicity, Swappa Local is transforming the experience of buying and selling consumer electronics, and is on track to help its users pocket over $100 million this year.
While known as a "friendly" marketplace, Swappa wants to call out competitors' shortcomings in protecting consumers from fraud and would-be scammers. Unlike other online marketplaces, Swappa manually verifies devices and listings on the site to help ensure products are not lost, stolen, broken or financed. From iPhones and laptops to cameras and video games, Swappa is the first and only local marketplace for used tech that provides a thorough review process to screen devices before they are made available for sale.
"Being sold a blacklisted phone wasn't worth the high speed chase that almost happened, but it was the motivation to create a better, safer marketplace," said Ben Edwards, founder and CEO of Swappa. "Our focus on safety is personal to me, having been ripped off using competitor sites. People want and need discounted tech and our goal has always been to connect buyers with gently used, fully functional devices. Swappa wants our users to trust the tech they buy. That's why we review product listings, implement a unique photo verification process, and even verify serial numbers of all smartphones, the most popular products on the site."
Unique to Swappa is its dedication to remaining people-powered. In addition to its "no junk" policy, enforced by manually approving every listing on the site and verifying the serial number of cellular devices, Swappa also offers an active support team, monitors communication between buyers and sellers on the site, and enforces a "no jerks" policy by removing users who do not adhere to the site's friendly policies.
With Swappa Local, buyers and sellers in these markets may now confidently purchase or sell a newish phone, MacBook, and other consumer tech product the same day at a great discount, with the reassurance of Swappa's verification policies and commitment to safety. Sellers never pay a fee to list their products on Swappa and are ensured fast payment for their devices once sold.
Swappa Local is now live in the following areas:
Atlanta, Austin, Baltimore, Boston, Charlotte, Chicago, Cincinnati, Cleveland/Akron, Columbus, Dallas-Fort Worth, Denver, Detroit, Houston, Kansas City, Las Vegas, Los Angeles, Miami/Fort Lauderdale, Minneapolis-St. Paul, New York City, Orange County, Orlando, Philadelphia, Phoenix, Portland, Raleigh/Durham, Sacramento, San Antonio, San Diego, San Francisco, Seattle-Tacoma and Washington, D.C. For more information and to list or shop for a personal technology product, visit Swappa.com.
ABOUT SWAPPA:
Founded in 2010, Swappa is on a mission to offer the best marketplace for buying and selling used consumer electronics. Emphasizing safety, simplicity, low fees and the "human factor," Swappa has grown to be the marketplace to buy and sell newish tech, with over $100 million in commerce projected this year.