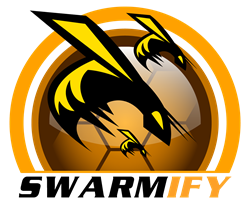 Only something completely new in video delivery can provide the changes needed to end buffering and we are happy to put our money where our mouth is
Florida (PRWEB) May 04, 2017
Swarmify, a leading video & media acceleration provider, announced today they are offering a solution to reduce video buffering by 80 percent or more. Swarmify is providing a money back guarantee to support this claim for any customer who switches from a content delivery network. Swarmify is also offering to match their existing pricing from whichever content delivery network they are switching from.
Swarmify CEO, Nathan Barnett, says, "We have seen announcements from the content delivery networks of their efforts to reduce buffering by 5 or 10 percent. While we applaud all progress on this front, those meager improvements don't move the needle for customers' revenue and overall video experience. Only something completely new in video delivery can provide the changes needed to end buffering and we are happy to put our money where our mouth is."
Swarmify brings a patent pending, realtime client-side CDN blending that provides an 8x improvement over the use of a single content delivery network. The SmartVideo solution adapts, self-heals, and mitigates network issues where it matters most: at the client edge.
With this new guarantee, customers who switch to Swarmify SmartVideo for 90 days will see at least 80 percent reduction in buffering and/or a 20 percent increase in video ad revenue. Any customer that is unhappy with the results and decides to switch back to their prior delivery network at the end of the 90 days will have all fees paid to Swarmify refunded.
This offer is for a limited time only. For more information, please email sales(at)swarmify.com or visit https://swarmify.com/landing/8020guarantee
About Swarmify
Video & media acceleration provider focused on providing fail-proof video. Their solution provides an 8x increase in end user video experience quality as well as more than doubling video engagement. Provides first of its kind "network edge intelligence" that self-heals throughput problems to avoid video disruptions.
Headquartered in Florida, Swarmify was founded by technology veterans from the web and content delivery industry.
Website: https://swarmify.com/