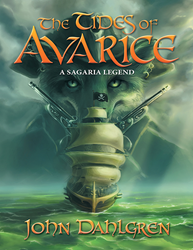 MARIN-EPAGNIER, Switzerland (PRWEB) November 26, 2018
Born in Sweden and a psychologist by trade, John Dahlgren was influenced by Nordic sagas, fairytales and mythologies since childhood. Apart from being a satire writer, he is also known for his fantasy series set in the magical world of Sagaria. His latest novel featuring an anthropomorphic pirate story is titled "The Tides of Avarice: A Sagaria Legend."
The bookish Sylvester Lemmington simply wants to hunt down the facts while everyone else seems more interested in hunting him. This is especially the case after he becomes the accidental owner of the most sought-after treasure map of all time. Now, Sylvester must deal with the humdrum of pirate life – voodoo magic, cannibals, lethal carnivores, mutinies and magical treasures. To make things worse, the most ruthless pirate captain who ever sailed the seas of Sagaria, the charismatic fox Cap'n Terrigan Rustbane, is hot on Sylvester's tail and wants his map returned.
"As a psychologist, I've always strived to make the characters of the novel as tangible and three-dimensional, colorful and unique as possible," said Dahlgren. "It's not always what one would expect, as the protagonist or hero/heroine has flaws and the villains a few redeeming features that make them more interesting than a simple division between good and evil."
"'The Tides of Avarice' is a Treasure Island meets Redwall romp and just too darn much fun to put down," stated a Foreword Review.
A tall order for a small lemming, Sylvester is nevertheless ready to face the challenges in this fantasy adventure.
"The Tides of Avarice: A Sagaria Legend"
By John Dahlgren
ISBN: 9782970120100 (softcover); 9782970120117 (eBook)
Available at the Lulu Online Bookstore, Amazon and Barnes & Noble
About the author
John Dahlgren is a psychologist and an award-winning author. Born in Stockholm, Sweden, he grew up close to the vast and untamed nature of Scandinavia and became influenced at an early age by the Nordic sagas, fairytales and mythologies. Dahlgren has studied creative and fiction writing at Oxford University where he earned high praise for his work. Apart from being a satire writer, he is known for his fantasy series set in the magical world of Sagaria. To learn more, please visit http://www.johndahlgrenbooks.com
General Inquiries:
LAVIDGE – Phoenix
Bryan Beach
480-306-6554
bbeach(at)lavidge(dot)com