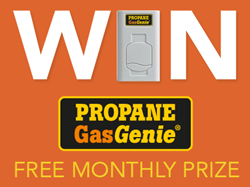 I don't know how it works, but it does! Easy to set it up, then just let it attach magnetically to the propane tank. It rings when you need to go refill the tank (but you still have enough gas for whatever you are grilling). -- J. Chaiken
San Francisco, California (PRWEB) December 31, 2013
The Propane GasGenie solves a problem that everyone who BBQs using propane has experienced: Running out of gas in the middle of cooking. It was introduced earlier this year on Amazon and is already creating a storm of interest. It works in a totally different way to all other propane gauges, using electronic sensors to detect a low gas condition in plenty of time to finish what is on the grill.
The New Year sweepstake offers the chance to win a Propane GasGenie in several different ways. Entrants can choose the simple option of entering their email address or they can increase their chance of winning by answering a simple question. They can even upload a BBQ related anecdote or joke etc to our Facebook timeline. The funniest upload will also win a prize.
Peter Frank, the inventor of the Propane GasGenie says, 'I have been looking for funny stories or jokes about barbecuing for some time. But all I have heard so far is this one: What do you call a grilled fish that is undercooked? Answer: Salmon Ella. I groaned out loud when I heard that and I thought that regular BBQ users would do much better.'
The sweepstake and competition will run through January and the winners will be contacted after the end of the month. Anyone who wants to enter should visit our Facebook page or the Propane GasGenie website and follow the instruction on the relevant page.
This New Year sweepstake runs in addition to the regular Hamburger Frisbee monthly competition. This is a web based game that shows how the Propane GasGenie works in a fun way. So for this month only entrants will have many chances to win this unique product. With spring coming soon the Propane GasGenie will be a real asset to anyone who BBQs. It will also be a talking point with friends and neighbors.
About Creative Electronic Products Inc
Creative Electronic Products Inc searches worldwide for products that are currently not available in the USA. After finding a possible contender it carries out due diligence by investigating the manufacturing Company. It then tests the product thoroughly before approaching the manufacturer to discuss an arrangement for the USA. For more information, visit http://www.cepinc.biz.