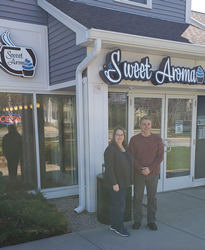 "We're excited to help Kim and Mark grow Sweet Aroma using the same proven process that has helped over 150 coffee shop owners in 30 states achieve their dreams. - Greg Ubert, Crimson Cup Coffee & Tea
COLUMBUS, Ohio (PRWEB) May 13, 2021
At Sweet Aroma Coffeehouse & Bakery, Owners Kim and Mark Sementa are bringing friends and neighbors in Colchester, Connecticut, together with terrific espresso-based coffee drinks and fantastic homemade baked goods.
"Even in the midst of the COVID-19 pandemic, we saw the need for a family-friendly gathering place for our community," Kim said. "We wanted to share our love for coffee and my recipes for homemade cookies, muffins, cupcakes and more!"
Their new shop invites guests to gather in comfortable indoor and outdoor seating. Larger groups meet in the dedicated community room.
After owning a liquor store for 10 years, the couple knew how important customer service would be in building their new coffee business. Kim's skills as an accountant and bookkeeper gave them the business foundation to succeed.
Still, a lack of coffee industry experience loomed as an obstacle to opening Sweet Aroma.
To gain specialty coffee savvy, the couple reached out to nationally acclaimed coffee roaster Crimson Cup Coffee & Tea.
"We knew we needed help, but didn't want to be a franchise," Mark said. "We liked what Crimson Cup brought to the table with their support package."
After calling Crimson Cup, the couple began learning how to open and run a successful coffee shop through the company's 7 Steps to Success coffee shop franchise alternative.
"We're excited to help Kim and Mark grow Sweet Aroma using the same proven process that has helped over 150 coffee shop owners in 30 states achieve their dreams," said Crimson Cup Founder and President Greg Ubert.
Ubert's book, "Seven Steps to Success: a Commonsense Guide to Succeed to Specialty Coffee," forms the program's foundation.
The 7 Steps program is so successful that, even during the 2020 pandemic, the Columbus, Ohio coffee roaster helped 19 entrepreneurs open new coffee shops. At least another 20 shops plan to open in 2021.
"Now is an exceptional time to open an independent coffee shop," Ubert said. "Specialty coffee demand grew over 50 percent over the past five years, and discounted locations are open in many communities."
From writing a strong coffee shop business plan to finding an ideal location, marketing support and much more, Crimson Cup guides new coffee shop owners from just dreaming to opening their business and beyond.
"Crimson Cup delivers terrific service, incredible coffee-shop products and excellent training," Kim said. "The drinks are fantastic. As long as we follow the recipes, we can't go wrong!"
Mark said systems were easy to use and efficient. "Everything is thought out," he said. "Crimson Cup knows exactly what they're doing."
The couple found Step 5: Focus on Training the most valuable of the steps.
"We couldn't have done it without the help of 7 Steps Trainer Steve Bayless," Kim said.
Bayless came to Connecticut before the shop's opening to show the couple and their baristas how to prepare drinks using the equipment in their shop. He stayed on site a full week to train them in all aspects of coffee shop operations and will return to help with the shop's grand opening celebrations later this year.
"Although there are a lot of coffee and barista schools out there, it's hard to learn everything in a classroom over a few days." Ubert said. "Our experience is that on-site training costs the coffee shop owner less. Plus, you remember more of what you learn by doing."
In the shop's first week, the couple began receiving positive feedback on the coffee, roasted by Crimson Cup.
"They say the coffee is delicious!" Kim said. "So far, we've received the most compliments on the vanilla latte and the Italian sodas."
In the past five years, Crimson Cup has won several national coffee awards – including a 2020 Good Food Award recognizing the country's best tasting, most responsibly sourced coffees.
Asked what advice he has for those who are considering opening a coffee shop, or adding coffee to their existing bakery or café – Mark said, "Get yourself a good consultant with Crimson Cup. Don't try to go it alone!"
"Opening a coffee shop would be nearly impossible if you don't have prior coffee experience," he added. "Even then, a barista only knows so much. You have to learn how to run the complete business."
Sweet Aroma is open six days a week at 139 South Main Street in Colchester, Connecticut. To keep up with events and announcements – including the shop's Grand Opening celebrations – follow the store's Facebook and Instagram pages.
About Crimson Cup Coffee & Tea
Columbus, Ohio coffee roaster Crimson Cup Coffee & Tea is a 2020 Good Food Award winner, 2019 Golden Bean Champion for Small Franchise/Chain Roaster and Roast magazine's 2016 Macro Roaster of the Year. Since 1991, Crimson Cup has roasted sustainably sourced craft coffee for consumers and wholesale coffee customers.
Through its 7 Steps to Success coffee franchise alternative program, the company teaches entrepreneurs to run independent coffee houses in their local communities. By developing a coffee shop business plan, entrepreneurs gain insight into how much it costs to open a coffee shop.
Crimson Cup also supports life-enriching projects through its Friend2Farmer™ initiatives, promoting the education, health, sustainability and economic growth of small-plot coffee farmers and their communities.
Crimson Cup coffee is available through over 350 independent coffee houses, grocers, college and universities, restaurants and food service operations across 30 states, Guam and Bangladesh. The company also operates several Crimson Cup Coffee Houses and a new Crimson retail flagship store. To learn more, visit crimsoncup.com, or follow the company on Facebook and Instagram.