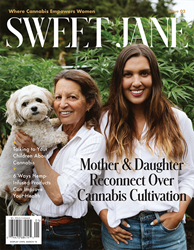 "For many women, access to cannabis isn't the barrier to incorporating it into their lives—it's knowing why, when, and how to use it."
KANSAS CITY, Miss. (PRWEB) January 09, 2020
Issue 02 of Sweet Jane, a print cannabis magazine for women and mothers, available nationwide
Sweet Jane Magazine empowers women and mothers
who want to achieve healthier and balanced lives through cannabis
Sweet Jane answers women's questions on cannabis as legalization continues to advance nationwide.
"Women and mothers are actively starting to ask about cannabis, regardless of where they live, we want to be their first source for information minus the intimidation," says Katy Ibsen, Sweet Jane editor and publisher.
Sweet Jane magazine was created for women by women with the mission to better inform readers who are curious about cannabis—marijuana and hemp—for health, wellness, or relaxation. Its founder believes that if we can educate consumers about cannabis, we can move closer to mainstream acceptance.
Education starts with reducing intimidation and creating a platform with easy-to-understand content about what cannabis is and how to use it. "For many women, access to cannabis isn't the barrier to incorporating it into their lives—it's knowing why, when, and how to use it. So we began with our own questions, seeking the answers, and sharing them with readers." says Ibsen.
New Resource for New Consumers
Sweet Jane strives to be a leading resource for women and mothers who are new to cannabis and want to educate themselves before trying any form of cannabis.
Issue 02 includes content on:

Talking to your children about cannabis
CBD for pets
The story of one woman's pregnancy with cannabis
CBD dosing
Interviews with inspiring women including: Karli Warner, co-founder of Garden Society, Dasheeda Dawson, founder of the The Weed Head, and a cohort of women who are making cannabis laws across the U.S.
"This issue is packed with stories women can't find in mainstream media. We wanted to take our readers into the industry, introduce them to women and mothers who are actively working within it, and why they believe cannabis is an important part of their lives," says Ibsen.
Sweet Jane Issue 02 is on sale at select Barnes & Noble nationwide. Readers can also purchase a copy of Issue 02 at http://www.sweetjanemag.com.
###
Sweet Jane is published by Ampersand Publishing, an independent publisher. Its mission is to empower women through cannabis.
The magazine is advised by an Editorial Board comprised of: Becky Frieze, principal at Treetop Gardens; Shabnam Malek, Brand & Branch LLP, Leah Maurer, TheWeedBlog.com, Shail Paliwal, 3Leaf Edibles; Chelsey Joseph, [WHT LBL], and Lisa Snyder, Tokeativity.
http://www.sweetjanemag.com :: social media @sweetjanemag