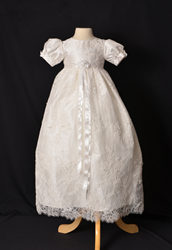 If It's Not A Sweetie Pie, It's Just A Dress
Baldwin, NY (PRWEB) May 29, 2014
Sweetie Pie Collection won the 1st Place Award for Best Christening Gowns in 2013. It was the Readers Favorite Award from Baby & Children's Product News! With the growing popularity of girls christening gowns and boys christening outfits, Sweetie Pie Collection has brought in more stock than ever to meet their customers growing needs. They have also added silk couture christening gowns to their line like they have never offered before. The quality is unsurpassed and the designs are truly one of a kind.
Sweetie Pie Collection offers both formal christening gowns and informal christening dresses in tea length. They can accommodate the needs of any child and parent with a large selection for both large and small budgets.
About Sweetie Pie: Sweetie Pie Collection creates an extensive line of flower girl dresses, communion dresses, christening dresses, pageant dresses, first birthday dresses, couture communion dresses, baby dresses and special occasion dresses for girls of all sizes. From infant to teens, Sweetie Pie Collection provides special occasion formal wear that is hand made with detailed precision and craftsmanship. Sweetie Pie Collection's Children Formal Wear Boutique collections are designed by the leading fashion designers with some of the most innovative and trendsetting styles each and every season. Sweetie Pie Collection's dress styles are unparalleled in elegance, sophistication and exquisiteness.
The Sweetie Pie Collection can be found in the finest and most exclusive bridal shops, children's stores and specialty boutiques in all 50 states, and over 20 countries worldwide. Make sure to visit our website and store locator to ensure that you are purchasing your dress from an authorized Sweetie Pie Collection retailer. You can visit our Facebook page to enter our Photo Contest by posting a picture of any Sweetie Pie Collection product in use.