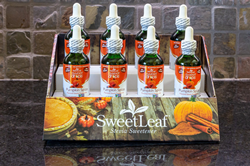 GILBERT, Ariz. (PRWEB) October 20, 2020
In 2003, when a popular coffee retailer began selling pumpkin spice lattes, it started a trend that now takes place each autumn.
This year, pumpkin spice lovers can indulge in the taste of autumn without worrying about added sugars and calories thanks to SweetLeaf® Liquid Stevia Pumpkin Spice Sweet Drops®. The plant-based sweetener has zero sugars, calories, carbs, gluten, and artificial ingredients, making it an ideal choice for fans of the fall favorite seeking an alternative to the abundance of sugar-laden pumpkin spice snacks, recipes, and beverages.
The October 2019 issue of Prevention magazine listed SweetLeaf Pumpkin Spice as one of the "Pumpkin Spice Foods That Are Actually Good for You," saying, "If you are looking to spice up your latte and watch your blood sugar, you may want to give this liquid stevia a try."
Exclusively available online, Pumpkin Spice Sweet Drops has 288 servings in each 2-ounce bottle (use 5 drops per 8 ounces). The versatile drops can be used to add deliciously familiar taste to drinks like coffee and chai, breakfast foods like cereal and yogurt, and even flavor up baked goods like muffins, cookies, and cakes.
The best part about SweetLeaf Pumpkin Spice Sweet Drops is the opportunity it gives consumers to significantly reduce added sugars and calories in their favorite treats.
A pumpkin spice drink at a national coffee shop chain has about 380 calories, 52 grams of carbs, and 50 grams of sugar. SweetLeaf's Paleo Sugar-Free Pumpkin Spice Latte, made with Pumpkin Spice Sweet Drops, has only 164 calories, 2 grams of carbs, and 0 grams of sugar. (Recipe and photo are courtesy of Sugar-Free Mom. Visit her on her website or on Twitter.)
SweetLeaf Pumpkin Spice Sweet Drops are available online at Shop.SweetLeaf.com, or at your favorite health food stores, natural groceries, supermarkets, and online retailers. Local retailers can be found on SweetLeaf's Store Locator page.
For interviews with company leadership, please call the number at the bottom of the release.
About WISDOM NATURAL BRANDS®, maker of SweetLeaf® Sweetener and SweetLeaf® Organic Monk Fruit Sweeteners
Wisdom Natural Brands®, based in Gilbert, Ariz., has been the leading stevia expert and industry pioneer with its plant-based SweetLeaf® Sweetener brand for 38 years. SweetLeaf is the only stevia brand winning 37 awards for taste and innovation. SweetLeaf Organic Monk Fruit is a 1:1 sugar replacement and available in granular, packets, squeezable, and liquid drops, totalling 18 products. SweetLeaf Sweeteners have zero calories, zero sugars, a non-glycemic response, and no artificial ingredients. SweetLeaf Stevia is sold in boxes containing 35 or 70 packets and shaker jars (organic or natural) for easy home use. SweetLeaf Liquid Stevia Sweet Drops® add flavor without calories, zero sugars, or artificial sweeteners to foods, beverages, and recipes. Organic Sweet Drops are available in three popular flavors: English Toffee, Vanilla Crème, and SteviaClear®. SweetLeaf Stevia Water Drops® add delicious flavor to still or sparkling water. New Better than Sugar!® powdered and granular, natural and organic, is a sugar replacement measuring 1:1 like sugar—without any of the calories or carbs and zero sugars. SweetLeaf Zero-Sugar Stevia Syrup, in three popular flavors, brings the incredible sweetness of stevia and monk fruit, with only 70 calories per serving. Wisdom introduced herbal blends made from Yerba Maté through its Wisdom of the Ancients® brand, one of the most respected herbal lines in the natural industry. Wisdom of the Ancients herbal blends are available in bags and loose leaves and come in a variety of beneficial flavors. And new zero-sugar, zero-calorie Yerba Maté Energy Shots, available in regular and orange flavors, provide energy with 200 nutrients and 100% naturally occurring caffeine. SweetLeaf Sweeteners and Wisdom of the Ancients' products are available at: Shop.SweetLeaf.com, health food stores, natural groceries, supermarkets, and online retailers.
MEDIA CONTACT:
Barbara McFadden
McFadden/Gavender
M: (520) 990-6040
barbara@mcfaddengavender.com
Website:
SweetLeaf.com
WisdomNaturalBrands.com