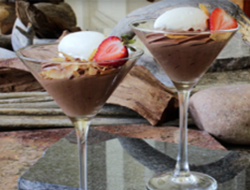 According to Forbes, the average American eats 9.5 pounds of chocolate each year.
GILBERT, Ariz. (PRWEB) October 13, 2020
Get ready to celebrate! Wednesday, October 28, is National Chocolate Day. Unlike Halloween, which is more generally candy-centric, and can include everything from candy corn to popcorn balls, National Chocolate Day pays homage exclusively to America's sweetest obsession: chocolate.
According to Forbes, the average American eats 9.5 pounds of chocolate each year. But what about all those warnings regarding heart health and sugar consumption? Isn't it worrisome that one good, over-indulgent National Chocolate Day binge could lead to the candy kiss of death?
While excessive dietary sugars still negatively affect one's health, there are non-sugar components in chocolate that can be very positive.
According to the American Heart Association (AHA), "The amount of cocoa solids in dark chocolate is important because it can be an indicator of the amount of dietary flavonoids, which are antioxidants found in fruits, vegetables, and certain drinks." The AHA refers to research which suggests consuming more dietary flavonoids is linked to a lower risk of coronary heart disease.
"Most dark chocolate is high in flavonoids, particularly a subtype called flavanols that are associated with a lower risk of heart disease. Some studies suggest chocolate or cocoa consumption is associated with a lower risk of insulin resistance and high blood pressure in adults."
So how does one create delicious chocolate desserts and get the positive benefits of chocolate without the negative health effects of too much sugar? A solution is, by replacing sugar with SweetLeaf® Sweeteners.
SweetLeaf Liquid Stevia Chocolate Sweet Drops® — in 2-ounce and convenient 50-ml squeezable BPA-free bottles — can add a rich, chocolate taste to just about any food, beverage or recipe, giving chocolate lovers the taste they crave with zero sugars, zero calories, zero carbs, and no artificial sweeteners.
Brian Jensen, SweetLeaf's Brand and Marketing Director said, "SweetLeaf Liquid Stevia Chocolate Sweet Drops® — just one of 16 delicious flavors of Sweet Drops — is every chocolate lover's dream. A few drops (or to taste) into coffee creates a delightful cafè mocha. Or a few drops into oatmeal or yogurt provides a wonderful chocolate taste without any of the negative health issues associated with many sweetened foods and beverages. Our Chocolate Stevia Sweet Drops are so popular, we also make them in a convenient, go-anywhere squeeze bottle that can fit in a pocket or purse."
For better-for-you chocolate treats, SweetLeaf has many low-calorie recipes like Keto Chocolate Smoothie, Vanilla Chocolate Mousse, Chocolate Lava Cake with Vanilla Cream Sauce, Dark Chocolate Mousse with Coconut Whipped Cream (pictured above), and many more.
Celebrate National Chocolate Day in a more healthful way with SweetLeaf, and you'll discover that every day can be a Chocolate Day!
SweetLeaf Chocolate Sweet Drops, along with all the other SweetLeaf zero sugar sweeteners and SweetLeaf Organic Monk Fruit products, are available online at Shop.SweetLeaf.com, or at your favorite health food stores, natural groceries, supermarkets, and online retailers. Local retailers can be found on SweetLeaf's Store Locator page.
For interviews with company leadership, please call the number at the bottom of this release.
###
About WISDOM NATURAL BRANDS®, maker of SweetLeaf® Sweetener and
SweetLeaf® Organic Monk Fruit Sweeteners
Wisdom Natural Brands®, based in Gilbert, Ariz., has been the leading stevia expert and industry pioneer with its plant-based SweetLeaf® Sweetener brand for 38 years. SweetLeaf is the only stevia brand winning 37 awards for taste and innovation. SweetLeaf Organic Monk Fruit is a 1:1 sugar replacement and available in granular, packets, squeezable, and liquid drops, totalling 18 products. SweetLeaf Sweeteners have zero calories, zero sugars, a non-glycemic response, and no artificial ingredients. SweetLeaf Stevia is sold in boxes containing 35 or 70 packets and shaker jars (organic or natural) for easy home use. SweetLeaf Liquid Stevia Sweet Drops® add flavor without calories, zero sugars, or artificial sweeteners to foods, beverages, and recipes. Organic Sweet Drops are available in three popular flavors: English Toffee, Vanilla Crème, and SteviaClear®. SweetLeaf Stevia Water Drops® add delicious flavor to still or sparkling water. New Better than Sugar!® powdered and granular, natural and organic, is a sugar replacement measuring 1:1 like sugar—without any of the calories or carbs and zero sugars. SweetLeaf Zero-Sugar Stevia Syrup, in three popular flavors, brings the incredible sweetness of stevia and monk fruit, with only 70 calories per serving. Wisdom introduced herbal blends made from Yerba Maté through its Wisdom of the Ancients® brand, one of the most respected herbal lines in the natural industry. Wisdom of the Ancients herbal blends are available in bags and loose leaves and come in a variety of beneficial flavors. And new zero-sugar, zero-calorie Yerba Maté Energy Shots, available in regular and orange flavors, provide energy with 200 nutrients and 100% naturally occurring caffeine. SweetLeaf Sweeteners and Wisdom of the Ancients' products are available at: Shop.SweetLeaf.com, health food stores, natural groceries, supermarkets, and online retailers.
MEDIA CONTACT:
Barbara McFadden
McFadden/Gavender
M: (520) 990-6040
barbara@mcfaddengavender.com
Website:
SweetLeaf.com
WisdomNaturalBrands.com