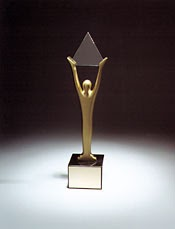 GILBERT, Ariz. (PRWEB) February 04, 2021
On Monday, February 1, it was announced that SweetLeaf® Sweetener was the recipient of the prestigious Stevie® Award in the New Marketing Solution category for the company's line of SweetLeaf Organic Monk Fruit Sweetener products.
The Stevie Award is one of the world's most coveted prizes. Since 2002, companies worldwide have been recognized for excellence. More than 2,300 nominations from organizations of all sizes and in virtually every industry, in 51 nations, were considered in this year's competition. Winners were determined by the average scores of more than 160 professionals worldwide on nine specialized judging committees.
SweetLeaf® Monk Fruit Organic Sweetener is a zero-calorie, organic, zero-sugar, all-natural sweetener. SweetLeaf® Monk Fruit Organic Sweetener is a full line of innovative granular and liquid sweetener products. The products are made from the highest quality and among the highest purity monk fruit extracts available. Only the highest standards of extraction are employed. The liquids are designed to sweeten and enhance coffee, tea, smoothies, and water with rich flavors, such as Caramel Macchiato or Almond Amaretto to Chocolate Peanut Butter or Crème Brulée, and playful flavors, like Orange Passionfruit, Strawberry Guava, and Old-Fashioned Lemonade. The striking packaging was specifically designed to pay homage to the fruit's rich heritage while signaling that food can be healthy but also fun.
There are 19-lines of Monk Fruit Sweetener options offered to consumers which includes Granular Bags (240 and 800 grams), Canister (240 grams), Packets (40 and 80 count), 1.7-oz Squeezable Organic Liquids (8 flavors), and 2-oz Organic Liquid Drops (6 flavors). All products are Organic, Non-GMO, and Kosher Certified.
The SweetLeaf family of sweeteners also includes great tasting SweetLeaf Stevia or SweetLeaf Organic Stevia in packets or shaker jar, six flavorful blends of hydrating Water Drops™, 16 delicious flavors of Sweet Drops™ in 2-ounce bottles, or five of the most popular flavors of Sweet Drops in portable, BPA-free, 50ml squeeze bottles.
For more information about SweetLeaf, visit SweetLeaf.com. For interviews with company leadership, please contact the name listed at the bottom of the release.
###
About WISDOM NATURAL BRANDS®, maker of SweetLeaf® Sweetener and SweetLeaf® Organic Monk Fruit Sweeteners
Wisdom Natural Brands®, based in Gilbert, Ariz., has been the leading stevia expert and industry pioneer with its plant-based SweetLeaf® Sweetener brand for 38 years. SweetLeaf is the only stevia brand winning 37 awards for taste and innovation. SweetLeaf Organic Monk Fruit is a 1:1 sugar replacement and available in granular, packets, squeezable, and liquid drops, totalling 18 products. SweetLeaf Sweeteners have zero calories, zero sugars, a non-glycemic response, and no artificial ingredients. SweetLeaf Stevia is sold in boxes containing 35 or 70 packets and shaker jars (organic or natural) for easy home use. SweetLeaf Liquid Stevia Sweet Drops® add flavor without calories, zero sugars, or artificial sweeteners to foods, beverages, and recipes. Organic Sweet Drops are available in three popular flavors: English Toffee, Vanilla Crème, and SteviaClear®. SweetLeaf Stevia Water Drops® add delicious flavor to still or sparkling water. New Better than Sugar!® powdered and granular, natural and organic, is a sugar replacement measuring 1:1 like sugar—without any of the calories or carbs and zero sugars. SweetLeaf Zero-Sugar Stevia Syrup, in three popular flavors, brings the incredible sweetness of stevia and monk fruit, with only 70 calories per serving. Wisdom introduced herbal blends made from Yerba Maté through its Wisdom of the Ancients® brand, one of the most respected herbal lines in the natural industry. Wisdom of the Ancients herbal blends are available in bags and loose leaves and come in a variety of beneficial flavors. And new zero-sugar, zero-calorie Yerba Maté Energy Shots, available in regular and orange flavors, provide energy with 200 nutrients and 100% naturally occurring caffeine. SweetLeaf Sweeteners and Wisdom of the Ancients' products are available at: Shop.SweetLeaf.com, health food stores, natural groceries, supermarkets, and online retailers.
MEDIA CONTACT:
Barbara McFadden
McFadden/Gavender
O: (520) 882-6262
M: (520) 990-6040
barbara@mcfaddengavender.com
Website:
SweetLeaf.com
WisdomNaturalBrands.com