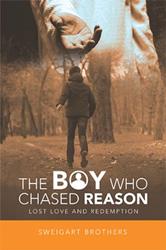 DAYTON, Ohio (PRWEB) January 17, 2023
In their first book, "Two Ticket Ride," brothers Mike and Bernie Sweigart combined their talents to frame an action-adventure that provides perspective to understanding purpose in people's lives. In "The Boy Who Chased Reason: Lost Love and Redemption" (published by LifeRich Publishing), they provide hope and insight to the question asked during life's lowest times: Where is God now?
The old south in 1911. Thirteen-year-old Virgil Gibson is the middle child in a large southern family. As times get harder, Virgil's mother pushes the family toward a strong faith in God, and Virgil seemingly has few worries. When his father tells the family that Virgil must live and work at a factory in a neighboring town to help supplement their meager farm income, everything changes.
The unfamiliar and hostile factory environment leaves him feeling forsaken by his family and forgotten by God. Virgil is placed with Angelica, a beautiful caramel-skinned bi-racial girl who is assigned to help him adjust. They grow closer and fall in love. When Virgil loses his job, he heads north to find better work and answers to his lack of faith. Angelica agrees to go with him and they embark on the exciting adventure together.
As they face the relentless bigotry and exploitation of the times, they become separated. Virgil, determined that he will one day be reunited with Angelica, must somehow survive while searching for his lost love and spiritual truths. He encounters unique and colorful characters that provide inspiration, and life lessons. He follows his heart on a journey that searches for love, acceptance, and redemption while intolerance and lack of reason challenge the core of his faith.
"This book addresses God's presence in our lives, but not from a pastoral or academic religious perspective. Rather, it is an action adventure that as the events of the story unfold, the reader realized the truths of faith, hope, community, and family," the authors say. When asked what they want readers to take away from the book, they answer, "When your life appears to be at a low; trust that God is there." For more details about the book, please visit https://www.liferichpublishing.com/en/bookstore/bookdetails/841175-the-boy-who-chased-reason
"The Boy Who Chased Reason: Lost Love and Redemption"
By Sweigart Brothers
Hardcover | 6 x 9in | 336 pages | ISBN 9781489743817
Softcover | 6 x 9in | 336 pages | ISBN 9781489743800
E-Book | 336 pages | ISBN 9781489744043
Available at Amazon and Barnes & Noble
About the Authors
Mike and Bernie Sweigart are brothers who were close as children. Although Mike's career in the business sector and Bernie's military career took them in separate directions around the world, they remained close, and shared their strong belief in the central truths of God's love and redemption.
LifeRich Publishing, the strategic publishing partnership of Reader's Digest and Author Solutions, LLC, was created to provide all writers a platform for sharing their stories, recipes, advice and more. LifeRich authors will benefit from a wealth of editorial design, marketing and education resources, specially created by Reader's Digest editors for the enrichment of these LifeSmart individuals. Books can be published in print, ebook or audio formats, with additional distribution to up to 25 million Reader's Digest customers through its online properties. For more information or to publish a book, please visit liferichpublishing.com or call 844-686-9607.