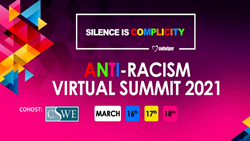 ALEXANDRIA, Va. (PRWEB) March 15, 2021
In collaboration with the Council on Social Work Education (CSWE), SWHELPER, a digital publication for social work and helping professionals, will host a three-day Anti-Racism Virtual Summit on March 16th - 18th in celebration of World Social Work Day and our National Social Work Month.
The Summit will be able to provide field placement hours for students, but it is also open to the public and media outlets. Attendees can watch live or view sessions on their schedule until April 30th. We are excited to announce attendees will hear from the spring summit's keynotes (amongst other notable speakers):
Darla Coffey, PHD, MSW: President and CEO of the Council on Social Work Education (CSWE) with an extensive background in social work practice in the areas of mental health, substance abuse, and domestic violence.
Tim Wise: one of the most prominent anti-racist writers and educators in the United States (author of nine books on the subject, he has spent the past 25 years speaking across the country and is a New York Times and MSNBC contributor).
Anjanette Young, LCSW: the founder and owner of Cafe Social Work, she was also the victim of a wrongful police house raid in 2019. Anjanette also has many years' experience in the Chicago area working in mental health interventions, crisis management, and clinical screening and assessment.
"As the only black and woman owned digital publication in this space, Darla Coffey at CSWE has been instrumental in helping my publication get access to spaces where I had no relationships as well as provided support in relationship building when white validation was needed." Deona Hooper, MSW Founder and Editor-in-chief of SWHELPER.
"I will offer a session in the summit in which I will begin by reflecting on the imperative of being a well-informed and committed ally, one that is committed to transformation and not just performing allyship" - Darla Spence Coffey, CEO and President Council on Social Work Education (CSWE).
For more details and registration, please visit - https://globalsocialwelfaresummit.com/
SWHELPER is a minority and woman owned digital media publication. We provide news, information, and resources to social workers and helping professionals as well as provide information to help individuals and families navigate the systems we implement.