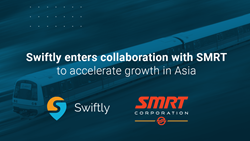 Beyond growth, one of our core goals at Swiftly is to build a transportation community where we can share best practices that we observe around the world. We're delighted to be able to include SMRT and Singapore within this network to broaden the scope of our reach
SAN FRANCISCO (PRWEB) August 19, 2020
Swiftly, the leading big data platform for public transit, today announced an investment round from SMRT Ventures, the Corporate Venture Arm of transport operator SMRT.
The collaboration with SMRT enables Swiftly to further expand its activities in the Asia region. Established in 2015, Swiftly has sales, marketing, and customer success operations in North America, Western Europe, and Asia. Asia is a large opportunity for Swiftly as its economies depend heavily on public transit to support their rapid economic and population growth.
Swiftly has created the first cloud-based data platform specifically designed for public transit data and operations. Unlike legacy transit software, Swiftly leverages big data and sophisticated algorithms to drive efficiency across the transit operations to boost the rider experience. Further, the platform includes a suite of APIs that enable public transit networks to connect and integrate services with other modes of transportation.
Swiftly has seen rapid growth and has more than doubled in size over the past twelve months. "We are thrilled to partner with SMRT as we look to accelerate our growth into Asia," said Jonathan Simkin, Co-Founder & CEO of Swiftly. "Beyond growth, one of our core goals at Swiftly is to build a transportation community where we can share best practices that we observe around the world. We're delighted to be able to include SMRT and Singapore within this network to broaden the scope of our reach."
SMRT, Singapore's leading public transport operator, serves more than 3 million passenger journeys daily via bus, rail, taxi and other public and private transport services. SMRT's investment in Swiftly (via SMRT Ventures) aims to deliver innovative technologies and new business models in urban transportation.
"As a board member and historical investor, one of our key goals is to help Swiftly realize their vision to help make public transit more efficient and sustainable everywhere around the world," said Xavier Gury, International Investment Director at Via ID. "Thanks to our international platform, we're excited to have made the partnership connection between SMRT and Swiftly. SMRT is a perfect partner now for Swiftly as it expands into Asia, one of the fastest growing and most dynamic regions in the world."
About Swiftly:
Swiftly has created the first big data platform specifically designed for transportation data and operations. Swiftly works with over 80 city transit networks around the world, including MBTA in Boston, Capital Metro in Austin, VIA in San Antonio, VTA in San Jose, and MDOT MTA in Baltimore, supporting over 5,500 transit agency professionals and impacting over 1.5 billion passengers per year. Swiftly has helped customers improve arrival predictions by up to 30% and complete planning projects up to 90% faster, resulting in increased ridership, fewer passenger complaints, and more efficient transit operations.