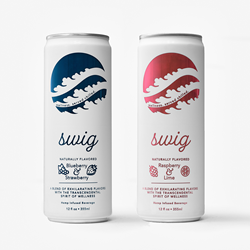 LOS ANGELES (PRWEB) February 20, 2020
Swig Wellness announced today the launch of their CBD Sparkling Water line. Swig Wellness Sparkling Waters are zero calories and made with 100% all-natural ingredients, lab-tested Cannabidiol oil (CBD) sourced from USA farms, and are available in two delicious flavors.
"CBD Beverages are everywhere, so we really wanted to distinguish ourselves," says Operations Manager and Co-Founder Andrew Weitz. Adding, "we designed Swig to have no calories, plus the added benefits of CBD and caffeine to give customers a lighter, more refreshing option to meet their needs."
Artfully crafted by the product team at Swig Wellness, the development of the proprietary formula was lead by Head of Technology Inoel Miranda . "We felt some of the popular CBD drinks in the market missed the mark on taste, so while formulating the water without sugar and using Nanoemulsion CBD added a layer of complexity, the end result is a delicious and healthy CBD Sparkling Water that is accessible to a wider group of consumers."
Swig Wellness retails for $4.20 and will be hitting retailer shelves nationwide this month. Available in Blueberry Strawberry and Raspberry Lime, each can contains 5mg of lab-tested USA grown CBD, 10mg of Caffeine, and is packaged in a well-designed 12 oz. slim can.
About Swig Wellness
Swig Wellness LLC was founded in 2019 by three friends on the quest to find a better tasting CBD drink. After much trial and error, they gave up their search and decided to make their own, naming it Swig Wellness. Headquartered in Denver Colorado, the company has offices in Michigan, California and New York. For additional information about Swig Wellness visit swigwellness.com
Additional Information:
Inoel Miranda
Head of Technology
Swig Wellness LLC
sales@swigwellness.com