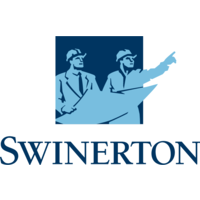 "The entire Swinerton construction crew were top notch and committed to seeing this project completed on time," said Dominic Magisano, 3M Health Information Systems Facilities Supervisor.
ATLANTA (PRWEB) March 24, 2021
Swinerton, a top-ranked, employee-owned General Contractor established in 1888, is expanding its healthcare team into the Southeast region in response to demand for safe, reliable healthcare construction partners. The dedicated team is led by Atlanta-based Operations Manager Paul Nielsen, Superintendent Zach Hilton, and National Healthcare Director Chris Morris. Leveraging a collective bank of more than 250 healthcare construction expert resources across Swinerton's 21 offices, Swinerton is credited for delivering healthcare facilities for more than 25 years.
To support the team's growth, Project Manager Daniel Lieb is joining Charlotte's healthcare team from the company's Denver office, bringing nearly a decade of experience and insight in healthcare construction innovation to benefit Charlotte healthcare organizations.
Matt Ventimiglia also recently joined the Charlotte office as a Precon Manager focused on healthcare. With 15+ years of experience serving healthcare clients in the Carolinas, Ventimiglia brings tremendous subcontractor relationships and expertise that saves clients time and money on projects.
"Swinerton recognizes the importance of best-in-class performance in all areas of construction, and in particular, the nuances and special requirements related to healthcare facilities," said Nielsen. "We operate with the understanding that there is no margin of error when it comes to establishing safe environments for patient safety and maintaining operations for patient care.
With over $450M in healthcare revenue in 2020 and client projects ranging from $5,000 to $270 million, Swinerton provides innovative approaches to healthcare facilities with a range of specialized services to support clients ranging from ground-up hospitals and medical office buildings to minor upgrades or complete renovations, with the universal emphasis on patient care first. "Our national growth mirrors that of our healthcare clients. We are expanding our footprint to continue providing our clients with reliable and consistent delivery of our services," continued Nielsen.
Swinerton's dedicated team of healthcare professionals has consistently delivered on behalf of healthcare clients, including the recent first generation build-out of one of 3M's newest facilities facilities at the Edison Windward location in Alpharetta, Ga., along with an interior space fit out per 3M's specifications. "This project was a fast-track project due to the move-in requirements for us, which meant multiple crews working simultaneously to meet the completion deadline, said Dominic Magisano, 3M Health Information Systems Facilities Supervisor. "The entire Swinerton construction crew were top notch and committed to seeing this project completed on time. They were conscientious about following project specifications, and their work product rarely needed improvement or revision. The job supervisors remained closely involved in overseeing the project from start to finish with attention to detail, strong organizational skills and commitment to follow-through are assets which enabled them to juggle the extensive details involved in our project without missing a beat."
Swinerton SE's Healthcare Team Leaders
PAUL NIELSEN | Operations Manager
As Operations Manager, Paul manages the project's direction, schedule, and personnel. He is also responsible for maintaining the project budget, project cost controls, and weekly reporting. Swinerton recently completed Edison Windward under his leadership, a 150KSF, two-floor, tilt, core and shell building located in Alpharetta, GA. Included was the tenant interior buildout for 3M and Owens & Minor.
ZACH HILTON | Superintendent
Zach exemplifies the vision and leadership needed for one to be successful in the healthcare construction industry. He has dedicated the last 14 years of his career with Swinerton in different roles managing some of Swinerton's most technical projects. Zach's experience overseeing a diverse mix of healthcare project types including, acute care renovations and ground up construction, utility infrastructure replacement, mass demolition, modular construction and more, has established his role as an expert resource for the Swinerton organization as well as our clients, consultants and trade partners. Zach's leadership in delivering high quality projects on schedule, on budget and safely has led to numerous opportunities with repeat clients as well as specific project awards.
CHRIS MORRIS | National Healthcare Director
Chris brings extensive knowledge of building in occupied medical campuses. He insists on consistency based on well-established best healthcare construction practices, operational excellence, and client satisfaction. During construction, his regular reviews ensure team conformance to the project goals, obligations, schedule, and budget. Chris leverages his 30 years of experience and 25 years with Swinerton to develop collaborative teams who never compromise budget, schedule, safety or quality.
About Swinerton
Swinerton provides commercial construction and construction management services throughout the United States and is a 100 percent employee-owned company. Recognized nationally since 1888, Swinerton is the preferred builder and trusted partner in every market it serves—proudly leading with integrity, passion, and excellence.