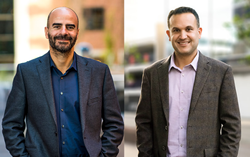 Division Manager Pete Ruiz now oversees building operations in OCLA and Sr. VP, Region Manager Ray Haj oversees Southern California construction operations
LOS ANGELES (PRWEB) May 07, 2020
Swinerton is proud to announce two key leadership changes in Southern California, with Pete Ruiz promoted to Division Manager for the Orange County and Los Angeles (OCLA) building group and Ray Haj overseeing all Southern California operations as Sr. Vice President, Region Manager.
Pete's 20 years of construction industry experience began with Swinerton in June 2000. Shortly after running work as an Assistant Superintendent, his dedication to his craft steered him through many roles including Superintendent, Senior Superintendent, General Superintendent, and Field Operations Manager.
In his last two years as an Operations Manager, Pete has been instrumental in growing OCLA's business, with talent, culture, and financial strength as his primary goals. Going forward, he looks to continuing to expand on these goals, with client satisfaction and optimization of current business processes in place.
"Beyond understanding the dynamics and difficulties of managing our business, Pete is a builder at heart and is passionate about developing and leading teams," said Haj. "His diverse background and leadership skills will help the OCLA building group continue to grow, diversify, and reinvent as needed through this next phase as we operate in a changing pandemic landscape."
Ray has been with Swinerton for 19 years, first joining the Los Angeles office as a Senior Scheduler in 2001. During his tenure, he has filled various roles managing corporate project controls, leading government services in Colorado, and most recently returning to OCLA as Division Manager in 2015. Ray also serves on the Board of Directors for Swinerton Incorporated and Swinerton Builders.
Promoted in January 2020, Ray now oversees operations in Los Angeles, Orange County, and San Diego. His focus in recent years has been developing best-in-class practices, leading and managing rapid business growth including self-perform, building a shared vision and unifying culture, and supporting the rise of the next generation of leaders at Swinerton.
"Ray has done a fantastic job in every role he has had within our firm," said Swinerton President Dave Callis. "His experience, work ethic, market knowledge, and passion for making a difference make Ray the perfect fit for our Southern California Regional Manager."
About Swinerton
Swinerton provides commercial construction and construction management services throughout the United States and is a 100% employee-owned company. Recognized nationally since 1888, Swinerton is the preferred builder and trusted partner in every market it serves—proudly leading with integrity, passion, and excellence. For more information please visit: https://swinerton.com/
During these difficult times, the primary drivers of our planning and decisions are first, the safety of our employees and communities, and second, sustaining operations which support the livelihoods of our teams. While we cannot anticipate and control all factors happening around us, together we can leverage key strengths of the Swinerton family – resiliency and teamwork as we work through this challenging time. Please visit our website to learn more about Swinerton's COVID-19 Plan: https://swinerton.com/swinerton-covid-19-plan/