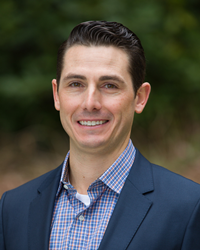 "My sights are set on seeing Swinerton as one of the top 10 builders in Georgia." -Derek Mosiman
ATLANTA (PRWEB) January 18, 2022
Swinerton Atlanta announces the promotion of Derek Mosiman to Atlanta Division Manager. With Atlanta's demand for construction and growth as strong as ever, Swinerton is rising to meet that need with an Atlanta-based team of 45, known for its work with Delta Air Lines, Southwest Airlines, SAFStor, 640 Peachtree, and several Confidential Technology and Banking clients. With Mosiman at the helm, the Atlanta division of the 100 percent employee-owned company projects 25 percent growth in 2022, topping its 2021 total revenues of $70 Million.
"Derek has been a rising star since joining our team in 2010 and is superbly positioned to champion our ambitious Atlanta growth plans," said Swinerton Vice President and Division Manager Jared Hoeflich. "His vision and leadership as director of special projects has been instrumental in strengthening our relationships with valued clients such as Delta Air Lines and SAFStor, and will continue to offer excellence to all of our clients throughout the Atlanta region."
Mosiman joined Swinerton in Orange County as a Project Engineer in 2010 and quickly advanced through project management roles of increasing responsibility before joining the Atlanta team in 2017. In his prior role of director of special projects, Mosiman concentrated on Atlanta's commercial interiors and aviation markets. His experience with clients such as Delta Air Lines, Southwest Airlines, Confidential Technology and Banking, Keysight Technologies, Sharp Memorial, SAFStor, Noble Investment Group, and OneStreet have afforded him an extensive knowledge base with a diverse product mix including aviation, healthcare, hospitality, multifamily, industrial and tenant improvements.
"With Georgia once again being declared the number one state in the country for doing business, there is tremendous demand for Swinerton's quality services to support growth in each of our core markets," said Mosiman. "I am honored to lead the Atlanta office in shaping that growth with the industry's highest quality professionals, service and cutting-edge technology.
"My sights are set on seeing Swinerton as one of the top 10 builders in Georgia," added Mosiman. Aligning with industry growth projections, Swinerton Atlanta is pursuing construction opportunities in the following sectors: corporate interiors, aviation, healthcare, industrial, senior living and multifamily. "Our diverse portfolio enables our team to deliver both in interior construction as well as ground-up development," adds Mosiman.
To support these pursuits, Mosiman expects to double Atlanta office revenues by 2030, adding approximately 60 commercial real estate and construction professionals. Derek has a three-pronged approach to his Atlanta-centric leadership:

Talent first – continue to educate and train our people and hire best-in-class.
Project execution – continue to navigate challenges such as supply chain and scheduling and keep an agile team keenly focused on project execution through training and mentoring, blocking and tackling.
Building relationships -- continue to develop internally the Swinerton culture and externally reinforce it with architects, owners and the trade community.
After graduating with a bachelor's degree in Construction Engineering Management from California State University Long Beach, Mosiman completed his master's degree in Business at the University of California Irvine. He is certified LEED AP, an active member of NAIOP and was recently recognized amongst his peers as a 40 Under 40: Champions of Construction 2021 by ADSK.
About Swinerton
Swinerton provides commercial construction and construction management services throughout the United States and is a 100% employee-owned company. Recognized nationally since 1888, Swinerton is the preferred builder and trusted partner in every market it serves—proudly leading with integrity, passion, and excellence. For more information please visit: https://swinerton.com/