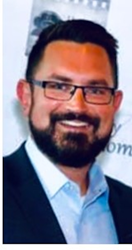 DALLAS (PRWEB) November 18, 2020
Switchplace is pleased to welcome Ben Lugiai as the new Vice President of Sales. Lugiai will be responsible for driving growth through strategic business partnerships and new client acquisitions. His focus will be on leading the expanding sales team to reach the next chapter of growth for Switchplace.
"I am thrilled to be joining the Switchplace team," says Lugiai. "The opportunity to develop, manage and execute sales strategies with a world class hospitality organization like Switchplace is a dream come true. My entire mission is simple, 'make a difference…' I look forward to making a difference not only at Switchplace but within the hospitality industry."
Lugiai has served in the hospitality industry for over 16 years in a multitude of roles. Before joining Switchplace, he was the Area Rental Manager for Enterprise Holdings Inc. where he was responsible for running one of the largest markets in the U.S. For the past five years, Ben served as the Senior Sales Manager and Director of Sales for North America at BridgeStreet Global Hospitality.
In this newly created role, Lugiai will provide hands-on leadership to the sales team, using his experience in driving top line sales to optimize the overall sales strategy at Switchplace. Additionally, Lugiai's experience in developing new partnerships and increasing market share will support the company's vision to expand current offerings in order to meet the changing needs of corporations and relocation management companies. With his passion for serving the client and optimizing the value of provided solutions, Lugiai will further advance Switchplace's mission to be a trusted partner and industry leader.
For more information on Switchplace visit http://www.Switchplace.com or find Switchplace on Twitter, LinkedIn, and Facebook.
About Switchplace: A WBENC-certified woman-owned business headquartered in Dallas, TX, with locations in the Americas and APAC regions, Switchplace is a global project management and temporary housing company that provides transitional accommodations and related services to support businesses and their employees during relocation, temporary assignments and a variety of corporate mobility project-related needs.