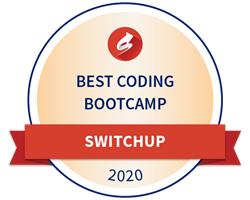 The rankings are based on over 15,000 verified student and alumni reviews, using both total review score and count.
KIRKLAND, Wash. (PRWEB) October 23, 2019
SwitchUp, a leading authority on technology bootcamps, has released their fifth annual student review-based rankings of the best bootcamps in coding, data science, cyber security, and web design, as well as the best online programs. SwitchUp also announced the best coding bootcamps in 44 technology hubs around the world.
The rankings are based on over 15,000 verified student and alumni reviews, using both total review score and count. Each review includes ratings of curriculum, job support, and overall experience.
In order to be considered for the overall best coding bootcamps ranking, each bootcamp must have at least 30 verified reviews and an overall review score of 4.0 or higher. The three subject-based rankings, and the online programs ranking, require at least 10 reviews, as well as a score of 4.0 or higher.
Le Wagon earned the top spot on the overall coding bootcamp ranking with 4.99 stars out of 5 and over 1,200 reviews. Nucamp's 94 different locations and high score of 4.83 landed them on the highest number of ranking lists, at 26.
"In our fifth year of publishing bootcamp rankings, we are proud to be the longest standing voice in the bootcamp education space. We understand that student and alumni feedback are integral to evaluating the value and effectiveness of a bootcamp. We are excited to provide prospective students insights from over 15,000 real bootcamp students and alumni to help them make these life-changing decisions and kickstart their careers," Mylinh Pham, Lead Product Manager at SwitchUp.
SwitchUp is also using their review-based methodology for their top tech city rankings this year. In order to qualify for these rankings, bootcamps need to have a physical location in the city, a minimum of 10 reviews, and an overall review score of at least 3.5. Some of the top cities with rankings include New York City, San Francisco, Chicago, London, and Toronto.
About SwitchUp
Since 2014, SwitchUp has been supporting aspiring technology professionals by providing alumni reviews and comprehensive information about coding bootcamps and training programs around the world.
They equip learners with the latest school news, course offerings, and details about scholarships and financial aid. They also provide in-depth resources on career information, industry trends, and preparing for bootcamps through their blog and newsletter.