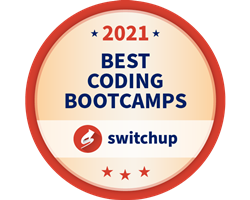 In these uncertain times, technology bootcamps are a worthwhile investment to help people upskill and upgrade in the job market.
KIRKLAND, Wash. (PRWEB) September 23, 2020
To help more individuals advance their opportunities in the job market through bootcamps, SwitchUp has released their sixth annual reviews-based rankings of the best technology bootcamps. The rankings include new lists for the best digital marketing, product management, and data analytics programs. SwitchUp also returned with their rankings of the best bootcamps in coding, web design, data science, and cybersecurity, as well as the best online programs, and revealed the highest-rated bootcamps in seven of the world's biggest technology hubs.
"With the unemployment rate surging and millions of Americans out of a job due to COVID-19, many are looking for ways to get back on their feet. In these uncertain times, technology bootcamps are a worthwhile investment to help people upskill and upgrade in the job market," said Sung Rhee, founder and CEO of SwitchUp's parent company, Optimal.
SwitchUp's recent study of students enrolled in bootcamps during the pandemic confirmed their value, as 90 percent said they were satisfied with their online bootcamp experience. The reason for that satisfaction? Quality job advancement and placement support, according to nearly half of reviews left by students.
The rankings are based on over 20,000 reviews from verified students and alumni, across more than 500 bootcamps in operation. To be considered for the 2021 rankings, bootcamps must have helped students land jobs in tech through excellent instructor support, curriculum, and career resources; each review left on SwitchUp evaluates the bootcamps on all of these aspects.
Skylab Coders Academy earned the #1 spot on the best coding bootcamps list with 5 stars out of 5 and 125 reviews. General Assembly's 30+ locations across six countries and Udacity's range of more than 30 programs helped land them on the highest number of ranking lists, a total of six each.
In addition to program rankings, SwitchUp shared their 2021 top tech city rankings, announcing the best bootcamps in cities including San Francisco, London, Seattle, and New York City. SwitchUp is the first publisher to use reviews specific to the program and location of the bootcamp. In order to rank on SwitchUp's list, a bootcamp needed to earn a minimum of 4 out of 5 stars and meet a required number of student reviews: 20 for the Best Coding list, 10 for all program lists, and 5 for the top tech city lists.
SwitchUp also awards merit badges to bootcamps that stand out in key areas, such as offering flexible classes or a job guarantee after graduation. New this year are merit badges for bootcamps approved to accept GI Bill funds and for those approved as a VET TEC Provider.
To learn more, please visit http://www.switchup.org.
About SwitchUp
Since 2014, SwitchUp has been supporting aspiring technology professionals by providing alumni reviews and comprehensive information about coding bootcamps and training programs around the world. They equip learners with the latest school news, course offerings, and details about scholarships and financial aid, as well as provide in-depth resources on career information, industry trends, and preparing for bootcamps through their blog and newsletter.
SwitchUp is a product provided by Optimal, formerly known as SR Education Group. On a mission to bring up-to-date, outcomes-based data and actual student experiences to the higher education decision-making process, Optimal offers services for every student. The company's other products include GradReports: over 30,000 student reviews and data-driven rankings illustrating the best colleges for earning potential based on major, and OnlineU: a leading authority on all things online education, with special focus on the colleges and degrees with the best value and return-on-investment. All services maintain Optimal's mission of empowering people to make better decisions about their careers and education by giving them the data they need to do it, all while helping them avoid insurmountable debt.