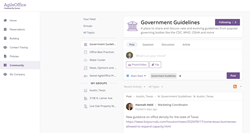 "Office property managers can now have direct access to their tenant base to establish solid relationships and open communication lines in a way that's never been done before, and quite frankly it's long overdue."
AUSTIN, Texas (PRWEB) October 26, 2020
Swivel, Inc., a digital office platform, today released a free version of its premium AgileOffice workspace management application to help property managers safely bring back occupiers and enable a hybrid working environment. AgileOffice for Property Managers is the first free workspace application that directly connects property managers to their in-office and remote occupiers in a NextDoor-style community format, allowing both to interactively communicate with each other to streamline office safety correspondence to encourage office re-entry in the post COVID-19 age.
AgileOffice for Property Managers is ideal for property management teams needing to go beyond static text messages and emails to communicate, engage, and build community with their occupiers to keep them consistently informed with real-time updates on rapidly changing building policies and protocols to better build trust and instill confidence to return.
Features of the free version include:

Community Forum—The NextDoor for Office Space: Fill information gaps and build confidence for re-entry by interactively communicating and collaborating with occupiers, other property managers, and the broader occupier community on a city-level to share knowledge, crowdsource best practices, and discuss evolving government guidelines and policies.
Interactive Building Page: Set, communicate and synchronize health and safety policies and procedures at the building-level.
Workspace Management Tools: Manage office capacity through online reservations and gain transparency into how employees are occupying their office space.
AgileOffice for Property Managers is available nationwide and can be accessed for free from the swivel.work website here.
Having relied on manual tracking and scheduling for occupancy in their building during COVID-19, which proved to be inefficient and time-consuming, Palo Alto-based Ventana Property Services turned to the free version of AgileOffice to automate and structure processes to better serve themselves for a safe workplace. After testing the product in their own office, Ventana plans to share the free workspace management tool with more than 25 occupiers across 10 office properties spanning 185,000 square feet throughout the San Francisco Bay area to encourage a safe re-entry to the workplace.
The Workspace Management Tools feature enables Ventana to empower occupiers to utilize proptech as a strong return-to-the-office strategy to safely manage office capacity and set office policies. Ventana plans to use the Community Forum tool coupled with the interactive Building Page for specific properties to administer the distribution of critical resources such as links to government regulation changes or free COVID testing sites, allowing them to better focus the conversations around location specific guidelines.
"The safety of our tenants is always our top priority. We've been working diligently to stay in communication to keep them in the loop on every development," said Director of Property Management, Julie DeShazo, Ventana Property Services. "Working with a company like Swivel who is taking an innovative approach in providing a free office safety tool is substantial to us. We are excited to see how our tenants use their platform to feel safe and confident in their workplace during such an unprecedented time."
Swivel is a digital office platform enabling property owners and their teams to offer a digitally-native customer experience for current and future tenants across all phases of the office lifecycle: marketing, leasing and occupancy. The platform is currently comprised of:
AgileView – An office leasing application that helps leasing teams showcase available space and get leases signed faster and for less cost.
AgileOffice – A workspace management application that helps occupiers use their office space safely and get the most out of their office investment.
Occupiers looking to transform how they use their office space to support a hybrid working model to get teams back in the office have the option of upgrading to a premium version of AgileOffice, which delivers enhanced workspace management features such as sophisticated 3D floor plan reservations, dedicated desk support, and contact tracing for occupiers.
"With the addition of our free AgileOffice for Property Managers application, we're making it easy for property managers to invite their occupiers back to the office while offering those occupiers the proptech they need to give their teams a safe and compliant environment to come back to—whether they chose to come in every day or two days a week," said Swivel Co-Founder and CEO, Scott Harmon. "Office property managers can now have direct access to their tenant base to establish solid relationships and open communication lines in a way that's never been done before, and quite frankly it's long overdue."
Find Swivel on LinkedIn and Twitter: @SwivelWork, and follow Swivel's blog to stay on top of company developments, news, events and happenings.
About Ventana Property Services
Ventana Property Services, a leading real estate services provider in California, is recognized as one of the largest third-party property management firms in the San Francisco Bay Area. We serve a high-profile group of clients that range from private developers and owners to institutional investors, with individual assets to large portfolios. Ventana is successful because of our ability to stay focused on our primary goal: results-oriented services that meet client objectives. For more information, please visit http://www.ventanaps.com.
About Swivel
We believe the future of office space is digital, flexible, and supports a hybrid of remote and in-office teams. The entire office experience needs to be transformed, and we are on a mission to help property owners and their teams do just that. With our digital office platform, Swivel enables property owners to help tenants evaluate, lease, and use office space. To learn more, visit http://www.swivel.work.