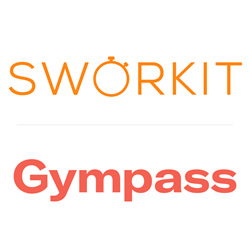 The argument over digital OR in-person fitness is moot
BETHESDA, Md. (PRWEB) June 10, 2020
Sworkit has partnered with Gympass, a leading platform that empowers companies to engage their workforce in wellness activities. Together they will deliver customized fitness options to teleworking employees all over the world.
Employees in companies across the globe are working from home and many experts predict that even after local and national economies reopen, many employees will continue to work from home indefinitely. Employers are rethinking their wellbeing offerings from traditional fitness solutions to a 360-degree wellness offering for their employees. Fitness experts around the world are also speculating on what the future of fitness looks like.
"The argument over digital OR in-person fitness is moot," states Sworkit CEO, Greg Coleman. He continues by saying, "This pandemic has accelerated market trends that were already in motion. We need to be talking about delivering omnichannel fitness experiences because that is what consumers are coming to expect. We're excited that Gympass embraces this vision of the future and look forward to an incredible partnership."
"We know that times have changed and there is no one size fits all solution which is why we are thrilled to partner with Sworkit to provide our users with customized plans that fit their needs." Marco Crespo, Chief Commercial Officer at Gympass
About Sworkit
Founded in 2012, Sworkit is a digital fitness company based out of Bethesda, MD providing at-home and on-the-go workouts and personalized plans to help users improve their health and fitness levels. With a custom combination of strength, cardio, yoga, and stretching workouts, Sworkit helps millions of monthly users work out on their own time and at their own pace.
Sworkit is ranked as a leader in app stores and was ranked #1 by the University of Florida in a study of fitness apps using the standards of the American College of Sports Medicine.
For more information, please visit https://sworkit.com.
Media Contact: contact@sworkit.com
About Gympass
On a mission to defeat inactivity, Gympass helps companies revolutionize how employees engage with physical activity, mental health, and nutrition driving lasting behavioral change. Our 2000+ clients credit Gympass' unmatched variety, convenience, and flexibility with helping to improve employee engagement, individual performance, and overall business success. Across 14 countries and over 50,000 gym and studio partners, Gympass partners with corporations to craft ongoing, personalized programs that will inspire your workforce to enroll, stay motivated, and unlock their full potential.
For more information about Gympass, visit gympass.com.
Related Links
https://www.sworkit.com
https://www.gympass.com