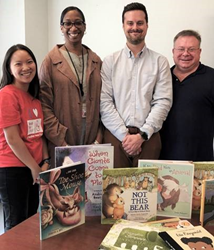 NEW YORK (PRWEB) October 10, 2019
Fostering a love of learning and inspiring creativity in young minds go hand in hand. And when two like-minded entities joined forces to give more kids the opportunity to let their imaginations soar, the result was a page-turner.
Sylvan In-Home, a personalized tutoring offering by Sylvan Learning, teamed up with the beloved Books of Wonder, New York City's oldest and largest independent children's bookstores, to donate books to children. Sylvan In-Home purchased 100 books carefully selected by Peter Glassman, owner and founder of Books of Wonder, for Reach Out and Read of Greater New York, a nonprofit organization that provides books to underprivileged children in pediatric care.
"Sylvan In-Home is delighted to donate these wonderful books and give more children the opportunity to share the love of reading," said Seth Lueck, director of Digital Acquisition and Optimization at Sylvan Learning, a leader in supplementary and enrichment education. "We know the importance of encouraging kids to read early on and setting a strong foundation for a lifetime of learning."
"There is nothing that brings me more joy than seeing a child's face light up when they open a great book and begin a new adventure," said Glassman. "It's so rewarding to know these books will be getting into the hands of so many children so that they can embark on new journeys."
Sylvan and Books of Wonder personally delivered the books to The Institute for Family Health/Phillips Family Practice, a community health center at 230 West 17 St. in Manhattan and one of the 233 Reach Out and Read of Greater New York pediatric sites.
"It is so important to keep kids' minds and creativity flowing, and these books will make such a difference for our young patients," said Dr. Cheryl Clark, Institute for Family Health. "We care for kids' health, and also for the whole child, so we want to see them develop a healthy interest in reading, early on."
Books of Wonder teamed up with Sylvan In-Home over the summer to collaborate on a series of author events to inspire reading and to donate books. For every book purchased at each of the events, Sylvan In-Home donated a children's book to Reach Out and Read of Greater New York.
"We are so grateful to Sylvan In-Home and Books of Wonder for this amazing book donation," said Evelyn Wu, regional program coordinator of Reach Out and Read of Greater New York. "And so are the kids and families who will enjoy them!"
About Sylvan In-Home
Sylvan Learning, a leader in supplementary and enrichment education for over 40 years, recently launched its Sylvan In-Home program in Manhattan, following a successful introduction in other major metros including Boston, Mass., and Washington, D.C. Sylvan Learning now offers its proven approach with new flexibility: the custom mobile app allows parents and caregivers to select and communicate seamlessly with tutors, and schedule sessions in the student's home or other convenient location. For information, visit sylvaninhometutoring.com/.
About Books of Wonder
Books of Wonder hosts author events and weekly storytimes at both its 84th Street store and its 18 West 18th Street location. Founded in 1980, Books of Wonder features new titles, classics, rare and collectible children's books, and a gallery displaying original art and graphics from children's literature. For more events, visit booksofwonder.com.