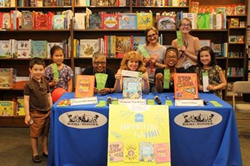 NEW YORK, N.Y. (PRWEB) August 06, 2019
Summer is a wonderful time for children to discover new books, new voices and new ideas. In the spirit of sharing the love of reading, Books of Wonder, one of New York City's largest and most beloved independent children's bookstores, has teamed up with Sylvan In-Home, a new personalized tutoring offering by Sylvan Learning, a leader in supplementary and enrichment education.
Together they are collaborating on a series of events this summer to inspire reading and to donate books to children's organizations so all kids can have the opportunity to let their imaginations soar. For every book purchased at each of the events, Sylvan In-Home is donating a children's book to Reach Out & Read, a nonprofit organization that provides books to underprivileged young children in pediatric care.
Most recently, they hosted an "Empowering Kids" literary panel July 14 at the Books of Wonder bookstore at 217 West 84th St. Authors Cheryl Willis Hudson, "We Rise, We Resist, We Raise Our Voices"; Stephanie True Peters, "Ground Breaking Guys"; and Jamia Wilson, "Step into Your Power", read passages from their books and shared personal stories and inspirational advice with the audience.
From now until the end of the summer, you can attend one of the following upcoming events at Books of Wonder:

Tuesday, Aug. 6, 6-8 p.m. (84th St.) – Melissa Sarno, "A Swirl of Ocean"
Thursday, Aug. 15, 6-8 p.m. (18th St.) – Gretchen McNeil, "Murder Trending"
Also, check out Sylvan's go-to summer reading list for more reading adventures: http://www.sylvaninhometutoring.com/SummerWonder
"Sylvan In-Home is proud to partner with Books of Wonder," said Emily Levitt, vice president of Education, Sylvan Learning. "We value the importance of engaging young minds and nurturing creativity, and we look forward to participating in more dynamic events with Books of Wonder – to share the love of reading."
"We're delighted to host such talented authors, giving our families the opportunity to peek behind the curtain and learn the intriguing stories behind these books," said Books of Wonder owner and founder Peter Glassman. "And, we're thrilled to be expanding our efforts to put books in the hands of less fortunate children via Reach Out & Read so as to inspire even more young readers."
Authors, seated from left, Cheryl Willis Hudson, Stephanie True Peters and Jamia Wilson talked about their books and signed copies at the "Empowering Kids" event July 14 at Books of Wonder, 217 West 84th St., Manhattan.
About Sylvan In-Home
Sylvan Learning, a leader in supplementary and enrichment education for over 40 years, recently launched its Sylvan In-Home program in Manhattan, following a successful introduction in other major metros including Boston, Mass., and Washington, D.C. Sylvan Learning now offers its proven approach with new flexibility: the custom mobile app allows parents and caregivers to select and communicate seamlessly with tutors, and schedule sessions in the student's home or other convenient location. For information, visit sylvaninhometutoring.com/.
About Books of Wonder
Books of Wonder hosts author events and weekly storytimes at both its 84th Street store and its 18 West 18th Street location. Founded in 1980, Books of Wonder features new titles, classics, rare and collectible children's books, and a gallery displaying original art and graphics from children's literature. For more events, visit booksofwonder.com.