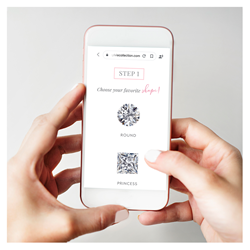 "Over the past year, our team developed a ring builder that is easy to navigate, intuitive to consumer shopping behaviors, inspirational, fun and accessible on mobile or at home, or even in-store."
DALLAS (PRWEB) October 01, 2020
Known for flexibility and ease of special orders, Sylvie Collection reports over 60% of annual sales are from custom orders. In the 2019 Knot survey conducted by The Knot Worldwide over 50% of couples want to personalize their ring design in some way and 31% of couples are custom designing a ring from scratch.
"Customization is by far the most important offering when it comes to bridal and we wanted to include this optimized feature on our site that allowed our community to easily build, design and share their own Sylvie rings based on their preferences. Visual images of the ring can seamlessly be shared, and ultimately purchased at their nearest Sylvie retailer," states founder and designer, Sylvie Levine.
The Five Steps of Sylvie Style Bar:
-Step 1: choice of seven different diamond shapes - round, princess, emerald, pear, marquise, cushion and oval
-Step 2: selection of center stone head setting styles - double halo, halo, solitaire or three stone
-Step 3: depending on the choices, the user can select what type of style from a range of modern to classic to vintage-inspired designs, and what type of sides stones they want if they have chosen a 3 stone setting
-Step 4: select from four types of metal - white/yellow/rose gold or platinum
-Step 5: once ring is created, users can do any of the following actions to make their purchase more convenient:

Email the ring to a friend, partner or themselves
Save and download the image to their phone or desktop
Share the image of the ring on Facebook, Instagram, Twitter or Pinterest
Schedule an appointment with their nearest Sylvie retailer
Locate the address, contact information and directions to their nearest Sylvie retailer
They can also click on "finishing touches" to see even more options that can be made when designing their own ring such as adding gemstones
In 2021, Sylvie Collection will expand the style offerings available through Sylvie Style Bar with additional features such as virtual try on, 360 degree views, additional additional customization options, and more.
"This is just the beginning for us. We will not only continue to innovate on our styles and designs, we will continue to increase our digital footprint making our Sylvie Style Bar the most joyful and efficient online experience for our customers to design the ring of their dreams," says Sylvie Levine.