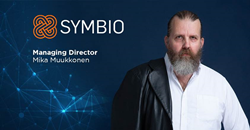 "Symbio continues to deliver impressive year-over-year growth, even in 2020 with the Covid-related challenges," said Muukkonen. "We are agile, globally distributed and fully committed to our client success."
LOS ANGELES (PRWEB) September 01, 2020
Symbio, the award-winning software development subsidiary of VXI Global Solutions, today promotes Mika Muukkonen to the newly created role of Managing Director for Symbio's U.S. and Europe business units.
Mika Muukkonen will oversee the business and development operations for Symbio's U.S. and European business units as the company continues to expand its offerings in CX and customer-centric software development, quality assurance, edge computing, artificial intelligence (AI) and Internet of Things (IoT).
Symbio powers much of VXI's customer-care technology. It additionally delivers custom software solutions to the world's leading brands. Globally, the company employees 2,100 developers with staff in North America, Europe and China. Founded more than two decades ago, it was acquired by VXI in 2015.
"Symbio positions VXI Global Solutions as customer-care leader while it delivers exceptional solutions to enterprise companies around the world," said VXI Co-CEO David Zhou. "Mika is an inspiring technology evangelist, astute business manager and strong team leader. He has a long track record of success at Symbio and he will drive growth and innovation."
"Symbio continues to deliver impressive year-over-year growth, even in 2020 with the Covid-related challenges," said Muukkonen. "We are agile, globally distributed and fully committed to our client success."
Prior, Mika Muukkonen led Symbio's Global/U.S. Business Unit from Symbio's offices in Chengdu, China. As managing director, he will return to his native Finland to oversee operations from Symbio's European headquarters in Helsinki. Prior to joining Symbio in 2012, Muukkonen was general manager of Cybercom Group running China operations. He possesses a deep technical background in systems architecture, embedded systems and software development.
About VXI Global Solutions:
VXI is a customer experience company, passionate about designing solutions that augment its clients' business processes to deliver higher revenue, greater profitability and happier customers. Founded in 1998, the company has 34,000 employees across 42 locations in North and Latin America, Caribbean, Europe and Asia Pacific. VXI offers omni-channel customer care and growth services using technology and tools, including purpose-built productivity-enhancing applications that drive higher sales conversion, CSAT, and related key metrics for its clients. Known for its transformation mindset, the company's IT arm, Symbio, offers digital and business transformation solutions that are seeded in its innovation philosophy of co-creation and seamless augmentation. http://www.vxi.com
About Symbio
Symbio is an international co-creation technology partner that helps its customers create high quality products and future innovations. By combining cutting-edge technological know-how, advanced global delivery networks and customized solutions, Symbio enables high-quality software product development quickly, cost-effectively and innovatively. Symbio's customers include Alibaba, BNP Paribas, MGM, HSBC, ABB, Sony and Volvo. Symbio has eight development centers and offices across the U.S., Europe and Asia. http://www.symbio.com