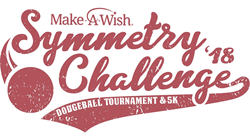 ASHEVILLE, N.C. (PRWEB) October 18, 2018
On Thursday, November 8th, Symmetry Financial Group will wrap up its annual fundraising effort to support the Make-A-Wish Foundation of Central and Western North Carolina, which is expected to raise $100,000 in support of local and regional families. The annual event, Symmetry Challenge, will be held at Camp Rockmont in Black Mountain and will include a 5k trail race and dodgeball tournament. The event is set to draw over 800 Symmetry agents from across the country to Asheville.
"We're honored and humbled to continue our relationship with the Make-A-Wish Foundation," says Whitney Zeh, Director of Community Relations. "Symmetry Challenge represents the culmination of our annual fundraising efforts for Make-A-Wish, and it's also our opportunity to celebrate our nationwide agent network that generated this impact."
Headquartered in Asheville, North Carolina, Symmetry Financial Group is a life insurance company that protects individuals and families from life's uncertainties through personalized life insurance policies. Symmetry Financial Group was recently recognized as one of the Inc. 5000 fastest growing companies for the third year in a row and as having a Top Company Culture by Entrepreneur Magazine for the second year in a row.
To learn more, visit sfglife.com.