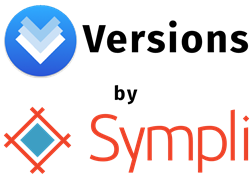 "We are excited to integrate with Bitbucket to enable digital product teams to centralize version control for both designs and code on the Bitbucket platform", Tim Keough, CEO, Sympli
WASHINGTON (PRWEB) October 17, 2018
Sympli, an enterprise DesignOps platform that streamlines collaboration and coordination between designers, developers, and digital product teams to deliver digital products faster and easier today announced the integration of Sympli's Versions solution with Atlassian Bitbucket. Versions is a major step forward for designers, allowing them to manage design files from idea through high-fidelity designs – tracking all changes, visually merging changes from multiple designers, and, now, allowing design files to be stored and tracked in Bitbucket, where development teams are managing their code.
"We are excited to integrate with Bitbucket to enable digital product teams to centralize version control for both designs and code on the Bitbucket platform," said Tim Keough, CEO of Sympli. "Sympli's Versions, combined with Bitbucket, allows digital product teams to increase efficiency by leveraging modern tools and processes like Git and Bitbucket to manage designs just like they manage code."
Versions with the Bitbucket integration offers designers the ability to:

Edit mockups or parts of the design system without having to orchestrate peer activity on the same files.
Run design experiments or design new product features without interfering with others, and then resolve conflicts and/or merge changes automatically through a visual and easy-to-use interface.
Browse and review change sets and view and/or compare design versions via the web or desktop app via direct integration with project management tools, keeping users on the same page with teammates and managers.
Visually select changes to include in the "checked in" version and omit other changes on an individual, change-by-change basis.
Access Versions directly from the Mac OS Finder integration to streamline access and easily transition from Dropbox or other shared drives.
Store design files with digital product code in the same Bitbucket repository or a design-specific repository
Choose between public cloud, private cloud and on-premise deployments.
A video demonstration of Versions here and learn more at versions.sympli.io.
About Sympli
Started in 2015 and based in Washington D.C., Sympli is a DesignOps platform that helps digital product development teams build web and mobile apps faster and easier with collaboration, communication, version control, automated design handoff, and implementation tools. Sympli is integrated with Sketch, Adobe XD, Adobe Photoshop, Android Studio, Xcode, Slack, and Atlassian Jira. https://www.sympli.io