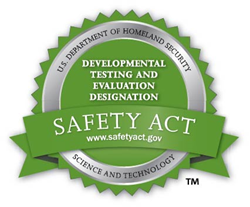 PALO ALTO, Calif. (PRWEB) February 04, 2019
Synapse Technology Corporation, developer of the security X-ray system artificial intelligence-based threat detection platform Syntech ONE, announced today that the US Department of Homeland Security (DHS) has granted Syntech ONE a SAFETY Act DT&E Designation. Syntech ONE is the first artificial intelligence X-ray platform to receive this award, which offers customers liability protection in the event of a terrorism incident.
Synapse Technology's artificial intelligence (AI) platform Syntech ONE integrates with new and existing X-ray machines used at schools, courthouses, amusement parks, airports, and more. Instead of relying solely on human cognitive abilities to identify threats like firearms and knives, Syntech ONE augments and automates the detection of these dangerous items. Syntech ONE has processed over 5,000,000 passenger bags and has detected thousands of firearms, sharps, and other prohibited items that otherwise would not have been found without the AI system.
Congress enacted the SAFETY Act after the September 11, 2001 terrorist attacks to encourage private companies to innovate, develop and deploy effective anti-terrorism technologies that advance homeland security efforts. "Synapse's SAFETY Act approval follows a rigorous assessment of Syntech ONE by DHS and underscores the technology's potential to counter terrorist threats and support homeland security and public safety efforts," says Mark Robertson of Kasowitz Benson Torres LLP and former DHS Associate General Counsel for Science and Technology who assisted Synapse Technology with its SAFETY Act application.
Peter Kant, Synapse CEO, said, "Our SAFETY Act DT&E Designation demonstrates how our Artificial Intelligence technology is transitioning into the mainstream of the security industry. Working closely with DHS and other government agencies allow us to deploy our innovative technology at nearly every inspection checkpoint."
As Synapse Technology continues to develop its artificial intelligence platform, the company is excited to continue its close work with DHS and receive additional SAFETY Act awards.