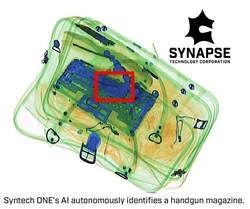 PALO ALTO, Calif. (PRWEB) March 25, 2019
Artificial Intelligence (AI) security and defense company Synapse Technology today announced the release of the Syntech ONE® 200 Series, the first patented AI platform for existing security X-ray machines. Osaka Airport ordered Syntech ONE 200 for multiple passenger lanes, becoming the first airport to deploy true live AI technologies for baggage screening.
Synapse Technology is making life safer and more convenient with AI software that can automatically detect weapons, knives and other threats at airports, concert venues, schools and secure facilities. Synapse Technology's flagship product, Syntech ONE, is the world's first patented and commercially available AI-based threat detection system for security X-ray machines. Instead of relying solely on human screeners to identify threats, Syntech ONE augments and automates the detection of multiple dangerous weapons and items using state of the art artificial intelligence and computer vision.
Syntech ONE has already been widely deployed, having processed over 6,000,000 passenger bags at security checkpoints around the world. The US Department of Homeland Security (DHS) also recently granted Synapse Technology Corporation a SAFETY Act award for its technology platform.
"Syntech ONE represents the world's first commercial deployment of AI technology for X-ray machines. As an industry veteran, I am so pleased we are finally bringing security technology into the AI era. The nimble team of AI experts at Synapse Technology are able to roll out new mission-critical innovations on a previously unheard of timeline," says Peter Kant, Synapse Technology CEO. "AI will speed passengers and visitors through checkpoints, lower operating costs, and dramatically improve security."
The 200 Series represents the first broadly-available plug-and-play system that is compatible with new and existing X-ray security systems from leading manufacturers including Rapiscan and Smiths. Customer do not have to endure costly replacements of their current x-ray technology to garner the performance benefits of Syntech ONE. The patented 200 Series system is designed to increase the probability of detection of threats while speeding up throughput at security checkpoints. Synapse's AI platform also leverages "big data" techniques to provide frequent enhancements, including additional machine capability and additional item detection.
Simanta Gautam, the CTO of Synapse Technology, said, "This broad deployment of AI is particularly exciting, as Syntech ONE is designed to continuously improve over time as more data flows through the system. We're excited to partner with critical infrastructure and aviation venues around the world to deploy this technology."
Syntech ONE Series 200 units are currently available and ready to deploy. Contact sales (at) synapsetechnology (dot) com for more information.