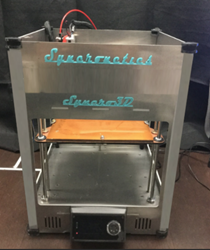 For the first time ever these military grade 3D printers are being made available to the public. The first opportunity is through the Kickstarter campaign at a reduced rate.
Costa Mesa, CA (PRWEB) March 27, 2017
Syncro3D has closed the gap between Affordability and Performance in 3D Printing, exclusively available now through its Kickstarter Campaign (LAUNCHES 3/29 > More Info).
To date, the patent-pending Syncro3D Printers were exclusively available to the US Military in large size format. For the first time ever, consumers now have access to a military-grade industrial Syncro3D Printer in a desktop size, with a 12"x12"x12" print area.
Truly the #1 Pick for the 3D Printer Market in 2017, Syncro3D S100 is the most powerful 3D printer of its type, ideal for small and medium sized businesses, and light industrial applications. Constructed with a heavy duty welded aluminum frame and enclosed print area, as well as the ability to use open source filaments, give the user ultimate performance for the money.
Industrial engineers are well familiar with the continuing issue in 3D printing: the balance of Cost vs Performance, with the only options available being either high-cost industrial grade machines or low-cost, low-quality (hobbyist) printers.
Military and commercial engineers, designers, and architects continue to praise Syncro 3D Printers for its unique patent-pending Gear-Drive(TM), Control System and Leading Edge Software: this integrated System provides high-duty cycle, reliability, durabililty, precision, speed, accuracy, and repeatibility.
As of now, there is a short window of time to purchase this astonishing machine, for half the MSRP cost during the Kickstarter campaign. Following the successful launch on Kickstarter, Syncro3D S100 will be available towards the end of 2017, for double the price listed today on Kickstarter.
ABOUT SYNCRONETICS
Syncronetics, Inc. was founded by a team of dedicated engineers and designers finding innovative ways to leverage technology to solve real-world problems. Syncronetics printers are designed and built in the USA and use American made parts.