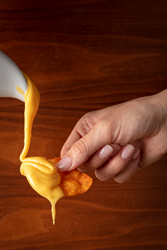 Our focus has always been to create new value and to better serve future consumers by finding creative ways to use our clients' products
NEWPORT BEACH, Calif. (PRWEB) March 11, 2021
Synergy Restaurant Consultants is excited to announce that we have been retained by Spudlove Snacks to create inventive new ways to use their delicious 100% USDA organic, thick cut potato chips when snacking at home. The chips begin with organic potatoes grown on the company's farm and simple seasonings, and in addition to being 100% organic, are Non-GMO project verified, and certified Gluten-Free. Synergy developed a range of food pairing ideas to celebrate the brand's flavors: Sea Salt, Sea Salt & Vinegar, Jalapeno, Barbecue, and Cracked Pepper. In addition to ideating inventive ways to use potato chips, Synergy was tasked with capturing photos of these mouthwatering inspirations for use across social media and to inspire viewers to play with their food and think outside the "bag" when it comes to potato chips.
"Our focus has always been to create new value and to better serve future consumers by finding creative ways to use our clients' products," says Synergy partner Dean Small. Synergy's team of menu developers and food photographer Bob Hodson joined forces to demonstrate snacking at its finest. The collaboration was focused on illustrating imaginative ways for buyers to use their chips, as a garnish for cocktails, to add crunch to a sandwich or salty balance to ice cream, or even as an alternative to corn chips for pairing with queso or poke.
Sheila Stanziale, the founder and CEO of Spud Love, is no stranger to the snack category, having started her career at Nabisco and later, Pepsico. Today Stanziale leads Spudlove, proud to be offering a differentiated potato chip that begins with organic potatoes grown on the company's farm which is rooted in regenerative agriculture practices. Spudlove's delicious organic, thick cut potato chips can be found online at Amazon.com, Thrive Market or Spudlovesnacks.com and throughout the Pacific Northwest at Whole Foods Markets, Fred Meyer and at Safeway stores in Washington and Northern California.
About Synergy Restaurant Consultants
Synergy Restaurant Consultants develops innovative and practical solutions that have been embraced by over 1,800 restaurants around the world. Founders and managing partners Danny Bendas and Dean Small have played a central role in evolving the food and beverage industry for more than 30 years by creating innovative strategies and tools that have become widely-accepted industry best practices. With the sought-after restaurant consultants at the helm, Synergy continues to elevate industry standards, apply innovation and insight to create proven strategies that help foodservice organizations of all sizes optimize their financial performance