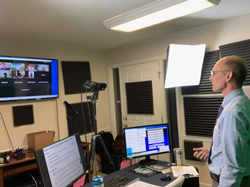 The virtual course was great, interactive, with fantastic instructors. The time flew by. - A TapRooT® user, familiar with in-person courses, who was dreading the virtual course.
KNOXVILLE, Tenn. (PRWEB) February 15, 2021
System Improvements Inc. is pleased to announce its new virtual TapRooT® Root Cause Analysis Course to train individuals and teams to find and fix real root causes of precursor incidents—incidents that could have become major accidents. For the first six months of 2021, System Improvements is providing an opportunity for companies to schedule a Virtual 3-Day TapRooT® Training for up to 16 people at a time.
In order to offer a great virtual learning experience, System Improvements employed rigorous testing of virtual delivery software systems and experimented with changes to content and timing. Some requirements included:

virtual breakout rooms for team exercises;
three-hour segments structured with the right amount of interactive exercises, instructional content, exercises, and breaks, allowing students to remain alert and interactive;
10-person classes with two instructors to allow good interaction between students and instructors;
ways to add quizzes, exercises, and software practice to the course to keep engagement high.
The testing phase included implementation and critiques by multiple corporate TapRooT® users. The next steps were follow-up post-course coaching and evaluation regimen to ensure the training was effective.
TapRooT® virtual courses use an online teaching platform, with a webcam on during the class, allowing students to see the instructors, be seen by the instructors, and interact with the class. Team exercises will be completed throughout the course and will utilize cloud-based TapRooT® Software. Significantly, after course completion, the student can schedule a 30-minute review of their first application of the TapRooT® System to investigate an incident or to perform an audit.
The number of the virtual courses will be limited as we certify our own in-house instructors. To schedule training for your company's employees, contact us to reserve course space, or call a TapRooT® Implementation Expert at 865-539-2139 and get your course scheduled today.
About System Improvements Inc. – TapRooT®
Founded in 1988, TapRooT® solves hurdles every investigator faces. TapRooT® root cause analysis takes an investigator beyond his or her knowledge to think outside the box. Backed with extensive research in human performance, incident investigation, and root cause analysis, TapRooT® is a global leader in improved investigation effectiveness and productivity, stopping finger-pointing and blame, improving equipment reliability, and fixing operating problems.