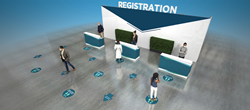 "One thing is for certain is that in-person events will not disappear, but companies will have to redesign, build and host events in a different way," said Tim Heffernan, chief development officer, T3 Expo.
LAKEVILLE, Mass. (PRWEB) June 01, 2020
T3 Expo, Inc. the general service contractor for creating shareable moments™ for trade shows and corporate events, today announced that it has launched Event Safe™, a service offering that includes the guidelines and blueprints for helping support the safe reopening of events, conferences and trade shows.
As experts in building the physical manifestation of brands, T3 Expo has worked on the state and federal level to use its knowledge to help keep people safe during the COVID-19 pandemic. First, through its work in aiding the Jacob Javits Center Convention Center in New York City to construct hospital beds and then with the International Franchise Association (IFA) in response to the White House Working Group to reopen the country.
Leveraging that knowledge, T3 Expo is uniquely positioned to help businesses, events and other operations open safely. With T3 Expo Event Safe, business and associations will have the guided support to conduct in-person events as safe and attractive as ever.
"T3 has been delivering the physical manifestation of brands since our inception 11 years ago and creating elements which guide people through a journey that provide shareable moments," said Chris Valentine, CEO, T3 Expo. "The Event Safe guide will help prepare organizations to open safely and still maintain branding while delivering these shareable moments that everyone is still craving."
T3 Expo has always been engaged at every level of the event – from delivering upfront elements of the show design and floor layouts to coordinating with labor and the unions, to the loading docks, set up, break down and shipping. With decades of experience in the event's space, the company is positioned to help clients and venues plan for a safe event in the new COVID-19 reality and can help support clients on how to optimize space, how to create the safe flow of people and how innovative design and structures to bring an event together in an organized and safe way.
T3 Expo Event Safe concepts begin with designs for things like signage, floor plans, structures and individual show areas. It flows to ensuring that a clean and safe production and fabrication process reassures that surfaces and structures are assembled, packed and shipped in a clean manner. And, the Event Safe program focuses on everything from advanced warehouses, to managing loading docks, labor teams, cleaning schedules, and adjusted work schedules.
Show hours or specifically expo hours may have to be adjusted, and certain age and risk groups may be given their own time slots at events. T3 Expo planners can help rethink all these details including rest room access or even seating for food and beverage services. T3 Expo's detailed and step by step Event Safe guide and process ensures that not just attendees, but show organizers, sponsors, venue staff and labor are all accounted for as part of a safe plan for clients.
In addition, T3 Expo has been working with its client and partner, IFA to form a report for submission to the federal government, which was an aggregation of reopening guidelines across all 50 states that can provide recommendations to businesses across multiple industries on how to safely reopen and conduct commerce. T3 Expo co-wrote the report that derived best practices and perspectives from franchise business leaders across hotels, restaurants, spas and salons, automotive, commercial services, residential services, senior care, fitness, and education.
"Event Safe can provide the tools to stay open for businesses and Associations with more options than just cancelling or postponing their event or converting them to digital platforms. As we eagerly await the decision that is 'all clear for events,' it is imperative for organizers to brace for the new normal and thoroughly assess all their options that make sense to help them achieve strategic objectives," said Tim Heffernan, chief development officer, T3 Expo. "One thing is for certain is that in-person events will not disappear, but companies will have to redesign, build and host events in a different way."
Whether a client has increased its leased space by 40 percent, or they are reducing their attendance targets by 60 percent, T3 Expo can guide them through what venues are expecting and what events in the new era will look like.
"Change is inevitable and we will see that across the events industry with trends such as Plexiglas dividers, hard wall structures for booths and registration lines that require social distancing markers on the floor," added Valentine. "Whatever the changes, our Event Safe program can help clients get back to creating safe events that provide value and some fun too."
For more information about T3 Expo's Event Safe program, please reach out to us at http://www.t3expo.com
About T3 Expo
T3 Expo is the shareable moment general contractor that defines, develops and delivers what is needed for event managers to better manage what exhibitors want and attendees dream. T3 Expo has scores of Eventgineers™, who apply their collective experience each and every day to redefine the design, development and delivery of events around the world.
Our Eventgineers can rebrand entire events overnight or apply their decades of experience to save clients planning and production headaches. With the use of T3's Presta technology, T3 Eventgineers are able to work with clients to create an event space that is needed to foster important ideas and shareable moments that generate community and commerce.
All trademarks, service marks and company names are the property of their respective owners