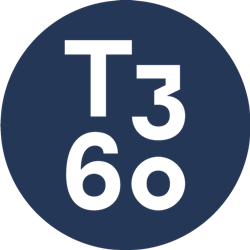 "I take immense delight with these appointments knowing T3 Sixty can make a significant contribution in the transformation and growth of thousands of companies." T3 Sixty Chairman and CEO Stefan Swanepoel.
LADERA RANCH, Calif. (PRWEB) August 10, 2021
T3 Sixty, a real estate management consulting and analytics firm, has strengthened its leadership bench by adding six senior executives as associate partners to the firm.
The associate partners have an additional management responsibility for developing T3 Sixty's overall business while still serving a large number of clients and the company's significant research practice. The associate partners supplement the efforts of the company's three partners: Stefan Swanepoel, Jack Miller and Tinus Swanepoel. T3 Sixty's current clients include approximately half of the industry's 100 largest companies.
This development significantly strengthens T3 Sixty's operations and helps the firm deepen its two-decade presence as a widely respected research firm and enhances its sought-after management consulting services, which it launched five years ago. The consulting division helps hundreds of clients across the full swath of the residential real estate brokerage industry with divisions that focus on brokerage and team development, technology innovation, mergers and acquisitions, brokerage technology, MLSs and Realtor associations, executive recruiting and event management.
The senior executives who have become associate partners for 2021 are Dean Cottrill, Travis Saxton, Michele Conn, Kelly White, Paul Hagey and Darlene Lyons.

Dean Cottrill (senior vice president): Dean leads T3 Sixty's brokerage consulting division, with emphasis on helping brokers and their companies reach higher levels of success and profitability. Cottrill has been with T3 Sixty since early 2018. He also serves as the director for T3 Fellows, the company's MBA-style real estate leadership program and has over two decades of hands-on leadership experience in managing various brokerage and franchise companies.
Travis Saxton (senior vice president): Travis leads T3 Sixty's technology consulting division, including the T3 Insider program, an enterprise growth and product development program for technology companies. He has 15 years of experience in residential real estate technology, technology consulting and digital marketing industry and has helped grow multiple multimillion-dollar businesses. Saxton joined T3 Sixty at the end of 2017 and is responsible for over 40+ technology clients in the company.
Michele Conn (senior vice president): Michele leads T3 Sixty's mergers and acquisitions division, with an exclusive focus on the residential real estate brokerage technology sector. She has over 25 years of experience with real estate-related technology companies, including leading Move Inc. (realtor.com), corporate development and strategy, and principal at early-stage venture capital firm. Most recently at T3 Sixty, Michele represented IXACT Contact Solutions and Morris Real Estate Marketing Group in their sale to Elm Street Technology.
Kelly White (executive vice president): Kelly leads T3 Talent, a division of T3 Sixty that provides executive recruiting and placement services. Passionate about discovering great people, Kelly has conducted thousands of searches and interviews assisting franchisors, brokerages, MLSs and mortgage companies in the ever-growing need of finding talent. White joined the T3 Sixty management team in 2018, and over the past 18 months, was responsible for over 80 senior placements in the industry.
Paul Hagey (senior vice president): Paul is responsible for T3 Sixty publications, including the firm's hallmark report, the Swanepoel Trends Report, an annual analysis of the top trends shaping the residential real estate brokerage industry, as well as the Real Estate Almanac, the industry's most extensive compendium of data. He has over a decade of experience in research, interviewing and writing about complex topics, and has been part of the T3 team since 2016.
Darlene Lyons (executive vice president): Darlene leads T3 Event Group, a full-service event planning and management company, following the acquisition of her 20+ year business, EZ Events. She has over three decades of experience in producing over 5,000 events, has worked with many of the world's leading artists and professional speakers, and has executed event management turnarounds taking multiple client event series from bankruptcy to profitability.
"Whatever your needs are in the residential real estate brokerage industry, the team at T3 Sixty are devoted to be the best business partner you could ever have," said T3 Sixty president Jack Miller.
Stefan Swanepoel founded what has now become T3 Sixty in 1998 and has relentlessly detailed his vision that the residential real estate industry would undergo radical change during the first two decades of the 21st century. His commitment includes writing over 50 books and growing T3 Sixty into the most influential industry consultancy and change agency of its time.
About T3 Sixty
T3 Sixty is a trusted advisor and management consultancy in the residential real estate brokerage industry. T3 Sixty also provides extensive data services and research to affect intelligent change and growth. For more, visit t360.com.