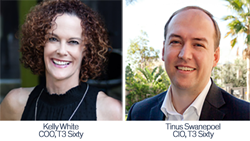 "We are delighted and thrilled by the talent pool T3 has been able to build in one team," said T3 Sixty Chairman and CEO Stefan Swanepoel. "The collective knowledge, understanding and experience propels the quality of research and management consulting T3 can offer."
SAN JUAN CAPISTRANO, Calif. (PRWEB) September 01, 2020
T3 Sixty, the residential real estate brokerage industry's leading management consulting and research firm, has appointed Kelly White as chief operating officer, succeeding Tinus Swanepoel, who moves into the role of chief information officer to head up T3 Sixty's new Data division. They begin their new roles on Sept. 15. White and Swanepoel join Mark Lesswing (chief technology officer) and Bob Smart (chief financial officer) at the company's C-suite level, reporting to T3 Sixty President Jack Miller.
Previously, Kelly served as senior vice president and head of T3 Talent, T3 Sixty's executive recruiting and placement agency, where she helped place over 40 executives in the past two years. Prior to joining T3, Kelly served as vice president at Sente Mortgage, director of talent attraction for Better Homes and Gardens Real Estate, chief operating officer at Austin, Texas, brokerage GoodLife Team and vice president of Keller Williams University at Keller Williams Realty International. Tinus who served as COO of T3 Sixty for the past two years, has an MBA and two engineering degrees, and will now lead T3 Sixty's newly formed data and information services division T3 Data. T3 Data consolidates various existing research and analysis, as well as T3 Sixty's intelligence services under one division.
These changes come on the heels of the promotion of Mark Lesswing from senior vice president to chief technology officer in August 2020. Prior to joining T3 Sixty in 2019, Lesswing served as CTO for the National Association of Realtors from 2006 – 2018. Also in August, T3 Sixty announced the appointment of Kenya Burrell-VanWormer as senior vice president of its new Diversity Solutions division. Burrell previously served as a vice president in the affordable lending division of Bank of America and as an executive with JP Morgan Chase.
"We are delighted and thrilled by the talent pool T3 has been able to build in one team," said T3 Sixty Chairman and CEO Stefan Swanepoel. "The collective knowledge, understanding and experience propels the quality of research and management consulting T3 can offer."
T3 Sixty is a widely regarded and trusted advisor to many of the residential real estate industry's most influential organizations and executives. T3 Sixty also offers in-depth research, information and best practices with its award-winning reports (Swanepoel Trends Report), and the Real Estate Almanac, a comprehensive examination of the nation's largest holding companies, brokerages, franchises, networks, associations, MLSs and technology providers. More at t360.com