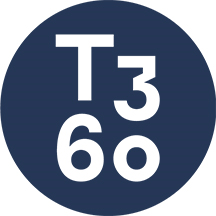 "Many communities across the country want to contribute but don't know how or don't have the time to set up a new initiative. T3 Sixty decided to establish a service to facilitate and support those who want to make a positive contribution." said T3 Sixty President Jack Miller
SAN JUAN CAPISTRANO, Calif. (PRWEB) August 03, 2020
T3 Sixty, the residential real estate brokerage industry's leading management consulting and research firm, has developed a management consulting division focused on helping companies in the real estate industry improve their diversity efforts with more powerful strategies or more purposeful initiatives. Selected to lead this initiative for T3 Sixty is Kenya Burrell-VanWormer. She starts September 1.
A 20-year real estate professional and licensed Realtor, Burrell-VanWormer has worked in banking since 2017, most recently as a vice president with Bank of America managing relationships with Realtors and builders in the company's south-central division. Previously, she worked with JP Morgan Chase in their affordable lending programs. In 2018, she served as chair of the 39,000-member Houston Association of Realtors (HAR) and received the HAR Young Professionals Network 20 Under 40 Rising Stars in Real Estate award.
The desire by T3 Sixty to help improve diversity in the residential real estate industry was born out the frustration in seeing ongoing discrimination and the lack of opportunities that exist for people of color. "We must treat people of all backgrounds and race groups fairly and justly," Stefan Swanepoel, Chairman and CEO of T3 Sixty said. "It is extremely important to create role models and road maps to success for anyone to follow."
"We and others are striving to be more diverse and inclusive in the industry and your leadership is respected and valued," said Houston Association of Realtors CEO Bob Hale. "You also could not have made a better choice than Kenya Burrell-VanWormer to lead this initiative. Kenya is an amazing leader and has the passion to make this vision a reality."
"Many communities across the country want to contribute but don't know how or don't have the time to set up a new initiative. T3 Sixty decided to establish a service to facilitate and support those who want to make a positive contribution," said T3 Sixty President Jack Miller said. "T3 Sixty will be announcing a national diversity initiative in September once Kenya is on board."
In July, T3 Sixty hosted great conversations on the topic of diversity in real estate on its Friday Fireside chats with leaders from the industry's most prominent diverse associations. They spoke with Hope Atuel (Executive Officer, Asian Real Estate Association of America), Marisa Calderon (Executive Director, National Association of Hispanic Real Estate Professionals), James Huang (President, Asian Real Estate Association of America), Sara Rodriquez (President, National Association of Hispanic Real Estate Professionals), Antoine Thompson (Executive Director, National Association of Real Estate Brokers) and Donnell Williams (President, National Association of Real Estate Brokers).
About T3 Sixty
Exclusively serving the residential real estate brokerage industry, T3 Sixty provides management consulting and counseling to real estate C-level executives, organized real estate leaders, broker-owners and leaders of high-performance teams to help them grow their businesses. T3 Sixty also offers in-depth research, information and best practices with its hallmark Swanepoel Trends Report, an annual analysis of the biggest trends impacting the industry, and the Real Estate Almanac, a comprehensive examination of the U.S.'s largest brokerages, franchises, networks, associations, MLSs and technology providers. More at t360.com.