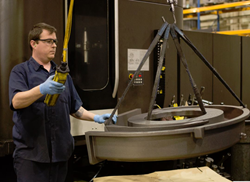 "The Toyoda FH1600 has amplified our ability to take on the largest and most complex jobs with the highest level of precision and efficiency," T/CCI President Richard Demirjian said.
DECATUR, Ill. (PRWEB) August 21, 2018
T/CCI Manufacturing, a world leader in high precision large format CNC Machining including metal turning, milling, drilling and assembly, has developed a new horizontal machining center featuring the largest work envelope in its class. The Toyoda FH1600SW-i offers the greatest machining capacity and flexibility for large part applications in heavy construction, oil and gas, high-speed rail and other industries that require high precision, large format parts.
The Toyoda FH1600 is responsible for the design, machining and assembly of hitches, brackets and frames for Caterpillar and KOMATSU machines up to 4500 lbs with a capability of up to 16,000 lbs. It allows T/CCI to create fracking pumps for the oil and gas industry and with the unique capability to hold extremely tight tolerances, provides the capability to develop bogies and frames for high-speed rail.
As the world of machining evolves, the demand for large part applications in renewable energy fields has and increased substantially, with a focus on equipment used in plants which supply new types of energy, such as shale gas and wind power.
"There is a definite need in the market to build larger, more durable machines with the capability to deliver end-to-end solutions for large format parts in a variety of industries," T/CCI President Richard Demirjian said. "In projects of this scale, there is no room for error. We fully understand and appreciate the precision and attention to detail it takes to build highly engineered, rugged machines and the Toyoda FH1600 has amplified our ability to take on the largest and most complex jobs with the highest level of precision and efficiency."
The FH1600SW-i has a maximum workpiece swing of φ3,200 mm and can hold a maximum load of 8,000 kg, making it capable of supporting large workpieces of the maximum standard size class, for which it has the necessary and sufficient machine stroke. The FH1600 is equipped with a quill spindle that allows better access to the inner areas of workpieces, enabling machining of deeper areas.
"The FH1600SW machine is designed to not only manufacture large parts but, manufacture with peak efficiency. The rapid traverse rate of 40m/min can be up to three times faster than your traditional boring mill type machine traditionally used for large part manufacturing. The FH1600SW machine has the ability to slash cycle times inside the machining area as well as providing efficient workflow with the standardly equipped automatic pallet changer. The 6" bar with a max extension of 29.5 allows for a greater accessibility for any application. The speed and cutting performance coupled with the largest workpiece capacity in its size truly make Toyoda's FH1600SW a great asset to any large part contract manufacturing operation striving for efficiency and return on investment," says Graham Roeder, Toyoda National Product Manager.
T/CCI's Contract Manufacturing division handles some of the largest and most complex projects for companies around the world. The state of the art, large format, CNC machines are equipped with dual drives for increased capacity and the technology to machine high strength materials at maximum accuracy. The result is reduced downtime and faster production cycles for customers.
T/CCI's CNC Contract Machining division provides end-to-end solutions for the largest, most complex custom projects. From design to machining through to assembly and delivery, T/CCI is fully equipped with advanced computer technology and software to meet customer needs.
About T/CCI Manufacturing
T/CCI is a world leader in compressor technology including reciprocating, swash plate, wobble plate, variable compressor and air brake compressor designs. We are an Original Equipment Manufacturer for trucking, off-highway, agriculture/construction, specialty vehicle and transport refrigeration markets. T/CCI is dedicated to a leadership role in the industry—investing resources through our engineering, testing and R & D labs including next-generation refrigerants that reduce emissions. Our global footprint spans manufacturing locations in China, Argentina and the United States with warehousing, sales and engineering in Illinois, Texas, China, Argentina, Ireland, Germany and Spain. We are committed to providing customers with superior products at significantly better prices. We achieve this through our application expertise, global logistics, design thinking and product innovation. T/CCI is recognized and awarded Bronze SQEP certifications by Caterpillar at both Ningbo, China and Decatur, IL manufacturing facilities.
About JTEKT Toyoda Americas Corporation
For more than 30 years, JTEKT Toyoda Americas Corporation has provided an extensive line of CNC machines engineered for innovators and built with the speed, strength and capacity to get the job done. Toyoda's premier lineup includes horizontal and vertical machining centers, bridge-type mills, turning centers, grinding machines and automation solutions. From job shop applications to high-volume production, thoughtful engineering has been the cornerstone of Toyoda machine tools. Built to be ruggedly tough in high-production environments, Toyoda Americas sparks innovation and efficiency for the technology of tomorrow.