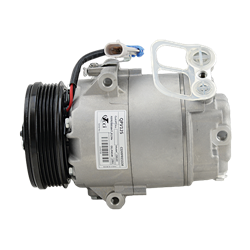 "Our partnership with John Deere has been extremely successful and continues to grow as T/CCI's supplier profile is raised," T/CCI President Richard Demirjian
DECATUR, Ill. (PRWEB) June 13, 2019
T/CCI Manufacturing, a world leader in compressor technology including reciprocating, swash plate, wobble plate, and variable compressor designs, has been named a Tier 1 Supplier by John Deere. The designation allows T/CCI to supply products like air conditioning compressors for their signature John Deere Gator, directly to the company instead of working through third party suppliers.
As a Tier 2 supplier, T/CCI worked with the John Deere team to develop the air conditioning system for their 2018 Gator release. T/CCI worked from concept to production on the best design to support the application. The success of this project served as a catalyst to the raised supplier designation.
"Our partnership with John Deere has been extremely successful and continues to grow as T/CCI's supplier profile is raised," T/CCI President Richard Demirjian said. "We're proud to be a trusted partner and continue to build a relationship that not only allows us to directly supply compressors, but work with the John Deere team on development of future products that are compatible with our industry leading systems."
"Being granted Tier 1 supplier status opens a door for future growth as we expand this family of products to manufacture the QPV140 and additional displacements. It also creates an increased opportunity for our CNC Machining division."
In addition to John Deere, T/CCI is a leading supplier of air conditioning compressors for companies including Caterpillar, Fiat, Scania Group, Navistar, Daimler Trucks, Kubota, Case IH, New Holland Agriculture and other global manufacturers of construction and agriculture equipment, heavy-duty trucks, buses, refrigeration and military vehicles.
About T/CCI Manufacturing
T/CCI is a world leader in compressor technology including reciprocating, swash plate, wobble plate, variable compressor and air brake compressor designs. We are an Original Equipment Manufacturer for trucking, off-highway, agriculture/construction, specialty vehicle and transport refrigeration markets. T/CCI is dedicated to a leadership role in the industry—investing resources through our engineering, testing and R & D labs including next generation refrigerants that reduce emissions. Our global footprint spans manufacturing locations in China, Argentina, India and the United States with warehousing, sales and engineering in Illinois, Texas, China, Argentina, Ireland, Germany, Spain, India & Mexico. T/CCI is certified Gold SQEP by Caterpillar at the Ningbo manufacturing facility. We are committed to providing customers with superior products at significantly better prices. We achieve this through our application expertise, global logistics, design thinking and product innovation.