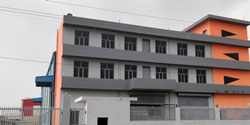 "In this economic climate, opening a production facility in India is a key initiative," Deepak Upreti, Director of Sales and Marketing for India said.
NOIDA, India (PRWEB) March 11, 2019
T/CCI Manufacturing, a world leader in compressor technology including reciprocating, swash plate, wobble plate, and variable compressor designs, raised the flag on a new facility in India, marking the continued expansion of a global network that is filling a growing need for cooling technologies in emerging markets. The 16,000 square-foot facility in Noida will focus on the manufacturing and distribution of the 5H and 7H wobble plate compressors designed for the heavy-duty truck, construction and passenger bus markets.
"In this economic climate, opening a production facility in India is a key initiative," Deepak Upreti, Director of Sales and Marketing for India said. "Since 2012, automobile production has increased by 30 percent, and India is second to China in global bus demand creating a significant need for HVAC systems throughout the country. As government policies continue to drive sales of electric buses and clean technology in transportation, the demand for heavy-duty, affordable compressors will continue to rise.
"We are excited to serve our customers in India and Southeast Asia from a facility in the region and look forward to a long-term relationship that will support the local economy."
Global demand for HVAC systems has been on the rise in recent years as domestic and emerging markets have focused more on operator comfort. The foundation of recent government policies, improved road safety and productivity have continued to drive growth. In addition, emerging trends including the growing adoption of electric buses and fuel-saving designs have created customer expectations for better cooling.
T/CCI India has already begun filling key positions at the new facility in engineering, finance and IT. More than 40 positions will be filled in the first half of 2019 in sales, purchasing, production and quality control. The first year in operation T/CCI expects to produce 50,000 units at the new facility, increasing to 300,000 by 2021.
"This is a fantastic opportunity for both T/CCI and our partners throughout Southeast Asia and the Middle East," T/CCI President Richard Demirjian said. "As demand grows in this sector, market competition is foreseen to grow higher, but few companies can compete with the international vendors based on quality, reliability, and innovations in technology. This is where T/CCI is uniquely positioned and we look forward to serving our customers and building new relationships in this market in the coming years."
WHY NOW: A LOOK AT MARKET TRENDS DRIVING COMPANY GROWTH:
A number of Government, societal and economic shifts are driving the HVAC market in India. Notably, the Government of India has taken the ambitious National Electric Mobility Mission Plan 2020 initiative to transform the automotive and transportation industry. Road safety, operator comfort and improved productivity are the focal points of these new government policies.
In the construction segment, India is expected to grow by more than 25 percent in the next five years and is forecast to emerge as one of the fastest growing markets in transport refrigeration, with a worldwide growth projected to reach 10.2 billion USD by 2022.
In the heavy-duty trucking market, India is positioned to supersede the United States as the world's second largest truck market. With the increase of truck prices, fleet operators concede that mandatory AC will go a long way towards higher efficiencies and road safety levels.
Bus market trend data shows the Asia/Pacific region accounted for more than 60 percent of all new global bus demand through 2018. Growth is expected to continue in both China and India (the region's two largest bus markets).
Exports from India are likely to grow at a CAGR of 12-15 percent over the medium-term to touch 160,000 units by 2020. This will be driven by expansion in the new markets like Asia, Africa and the Middle East.
About the 5-H/7-H Compressors:
The 5-H and 7-H heavy duty wobble plate compressors far outperform the competition. An anchor product for T/CCI, the compressors boast the leading design in the industry for the heavy-duty truck and construction sector. The 5-H and 7-H can operate with lower oil and circulations and less clutch ware. T/CCI clutches are designed to last two-times longer than any other clutch in the industry – up to two million cycles.
The 7H has become the fastest growing product line at T/CCI and as the technology continues to evolve and has recently been expanded to go into larger applications including 30 passenger/school buses.
For more information on T/CCI India, global operations, products and opportunities visit tccimfg.com
About T/CCI Manufacturing
T/CCI is a world leader in compressor technology including reciprocating, swash plate, wobble plate, variable compressor and air brake compressor designs. The company is an Original Equipment Manufacturer for trucking, off-highway, agriculture/construction, specialty vehicle and transport refrigeration markets. T/CCI is dedicated to a leadership role in the industry—investing resources through engineering, testing and R & D labs including next generation refrigerants that reduce emissions. The company's global footprint spans manufacturing locations in China, India, Argentina and the United States with warehousing, sales and engineering in Illinois, Texas, China, India, Argentina, Ireland, Germany, Spain and Mexico. T/CCI is committed to providing customers with superior products at significantly better prices. The company achieves this through application expertise, global logistics, design thinking and product innovation. T/CCI is recognized and awarded Bronze SQEP certifications by Caterpillar at both Ningbo, China and Decatur, IL manufacturing facilities.