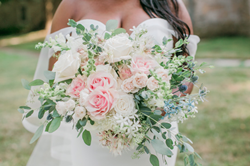 CLEVELAND (PRWEB) November 17, 2020
Tonya Passarelli of T. Florals was the lead florist in a styled shoot published on Wedding Chicks on October 30th, a wedding magazine website. Wedding Chicks is the fastest growing wedding magazine platform with a hundred thousand visitors who use the site for their wedding and reception inspiration and planning. T. Florals is a local florist in Cleveland, offering exceptional floral design services for weddings, special events and other celebrations including showers, bar/bat mitzvahs and graduation parties.
Tonya worked on a team with other talented vendors to showcase a micro-wedding in response to the demand for smaller, more intimate events. Their goal was to illustrate how to make a micro-wedding celebration beautiful and memorable, using stunning flowers, elegant table settings and gorgeous styling for the bride. To fit the theme, "an elegant blue micro-wedding," Tonya used a soft, dreamy pastel palette that was sophisticated, romantic and showcased local, seasonal blooms. All the elements of the shoot, ranging from the brides dress and hair to the table setting, flowers and furniture came together to create an to fit the ethereal, woodland setting.
Tonya launched her floral business to make one-of-a-kind floral arrangements for local clients. It is Tonya's mission at T. Florals to offer unparalleled customer service, quality, and unbridled creativity for each and every client. She takes pride in her signature flower arrangements, custom-made to serve any occasion – and loves designing for weddings. Her unique garden-style designs elevate wedding venues, bringing the natural world to the table with lush, romantic floral arrangements. She offers full service wedding florals including bridal party flowers, ceremony flowers, reception flowers and floral installations.
With extensive experience in the art of floristry, T. Florals partners with her clients to translate a bride and groom's vision into reality, paying careful attention to planning and flawless execution. She helps her clients interpret style preferences, select flowers and create gorgeous color palettes to transform an environment into something truly special. Whenever possible, T. Florals uses local blooms, supporting local growers and ensuring the most fresh, vibrant flowers possible. Her specialty is a garden-style floral aesthetic but also creates traditional and modern designs as well. Regardless of the size of the job, T. Florals imagines a customized design for every client – ranging from large weddings to small gatherings, right down to daily floral deliveries in Cleveland. As stated by Tonya "My goal is to make my clients and their guests swoon by designing take-your-breath-away flowers with the freshest, high quality, flowers available."
About Tonya Passarelli
Passionate about all things floral, Tonya Passarelli founded T. Florals in 2019 in Cleveland to bring more color to the world and share her signature design aesthetic. Tonya delights in spreading the joy that flowers bring and considers it a great privilege to work with clients on their special events and floral projects. Grounded in trust, reliability and artistry, she creates floral designs for her clients with the intent of igniting an emotional connection to nature's beauty. Arrangements are meticulously tailored for every occasion - ranging from a little wild and unstructured for a rustic farm wedding to perfectly polished for a black-tie affair. A consummate professional whose heart goes into every project, Tonya provides unsurpassed quality, creativity and client service.
###
To learn more about Tonya Passarelli, call her at 216.410-1384 or send her an email at tonya@tflorals.com. Visit their official website at https://www.tflorals.com to learn more.