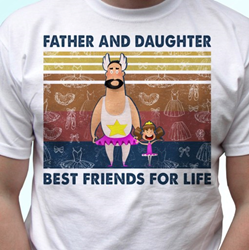 Our goal is to turn your ideas into unique, fun, and creative T-shirts and bring happiness and value to your life.
HAWTHORNE, Calif. (PRWEB) January 01, 2021
T-shirt at Low Price – a print on demand e-commerce company – is excited to announce that they will be launching a new and cool T-shirt collection for Dad named ''Gift for Dad'' this month. This collection includes 4-part - Single Dad, Best Dad Ever, Step Dad, and the last is Veteran Dad.
This collection not only appeals to men but also to anyone looking for comfortable clothing. Using durable cotton, printed right here in the USA, the team has created t-shirts, tank tops, sweatshirts, mugs, and long sleeve tee, ensuring that their message of love and belief to Dad could be enjoyed and shared by all.
"Dad! It's a sound full of love and pride. Dads lead us by example and impart wisdom on how to get through life the best way they know-how. They make us smile, they make us proud. Dads always stand by us, give us comfort when we're happy, down, or scared, and sometimes they give us presents when we least expect it. Most of all, they give us cherished moments and memories — heartwarming and funny— that stick in our hearts, even if they are no longer with us." T-Shirt At Low Price understands that no one in the world can replace Dad. That's why the Gift for Dad is born.
It can be said that shopping for dads is a daunting task. Mainly as they always answer the question, "What do you want for this holiday?" with something like, "I want nothing", "I've got everything I need!". T-Shirt at Low Price believes that sometimes, these basic and fun T-shirts are more meaningful and thoughtful than luxurious presents displayed in the store. That's the reason T-Shirt At Low Price launches a cool list of Father's Day shirts for the special men in our life, something different this time around. A series of 12 different T-shirts in 12 months for Dad is not a bad idea.
T-Shirt at Low Price claims that they put customer satisfaction in priority. Each item sold on the site goes through an array of quality assurance checks to make sure the best experience for users and their customers. All product suppliers are required to observe an ethical code of conduct that covers health and safety regulations, labor and human rights laws, and ethical business practices. They also prioritize suppliers who offer eco-friendly goods or use methods that reduce environmental impact.
In addition to T-shirt printing, T-Shirt At Low Price offers a wide range of other printing services as well, including mugs, personalized gifts, blankets, phone cases, and posters. To learn more about T-Shirt At Low Price printing service, you can contact them using the contact information below:
Website: https://tshirtatlowprice.com
Email: support@tshirtatlowprice.com
Phone: +1 331-256-1888
About T-Shirt at Low Price:
T-Shirt at Low Price is committed to making funny and creative T-shirts that appeal to anyone. They are principled, reliable, and continuously try to improve themselves and thrive to make their customers happy by working hard and doing their best at customer service.