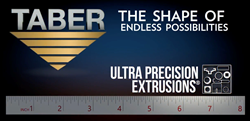 "One of the taglines we use is 'Shaping Endless Possibilities.' With the extensive variety of extruded shapes Taber produces—from micro-extrusions to wide profiles and everything in between—Taber embodies that message."
LITTLE ROCK, Ark. (PRWEB) October 25, 2018
Taber Extrusions, located in Russellville, Arkansas is a highly regarded full-service provider of aluminum extrusions to a wide variety of industries including aerospace, transportation, defense, and thermal management. Taber has completed the relocation and start-up of the recently acquired micro-extrusion press lines. ISO 9001 and AS 9100 certified, Taber's present and future customers can expect to see increased supply opportunities with the expanded set of extrusion solutions, programs and services.
"It's about having all the different to meet the extrusion end users growing needs," states Jason Weber, Taber Extrusions Vice President of Sales and Marketing, in a recent article by Light Metal Age Magazine. "One of the taglines we use is 'Shaping Endless Possibilities.' With the extensive variety of extruded shapes Taber produces—from micro-extrusions to wide profiles and everything in between—Taber embodies that message."
The ultra-precision extrusion® manufacturing lines have a production envelope with a circle size of 3 inches or less and a weight per foot of 1 lbs. or less. For comparison, the 8,600 ton press in Russellville produces profiles with a minimum weight of 4 lbs. per foot. Unlike traditional extrusion presses, these micro-extrusion presses are built in such a way to allow for the production of extrusions with wall thicknesses of 0.010 inches and tolerance capabilities of +/- 0.001 inches. These micro-extrusion production centers allow designers and engineers the freedom to engineer profiles that would otherwise be unextrudable through conventional presses. (- Light Metal Age Magazine, 2018)
Founded in 1973, Taber Extrusions originally pioneered a process for extruding rectangular billet which enables the company to extrude solid profiles up to 31 inches wide or hollows up to 29 inches. Taber expanded with the purchase of an extrusion facility in Gulfport, MS., in 1995 which houses a new state of the art cast house and two additional presses, and the fabrication area has been expanded multiple times. Taber continues to extrude billet in a wide range of alloys and sizes, and has diversified its markets beyond military since its inception to include aerospace, automotive, marine, infrastructure, and sporting goods, among many others. For these markets, the company supplies cast and extruded products in a variety of soft and hard alloys. Today, Taber Extrusions is proud of its aluminum micro-extrusion capabilities, and full offering of extruded aluminum components, value-added machining services and raw material supply to the North American market.
Thank you for your continued support of Taber Extrusions, LLC. If you have any questions please visit taberextrusions.com or contact one of our Regional Sales Representatives.
Follow Taber Extrusions
LINKEDIN: https://www.linkedin.com/company/taberextrusions/
FACEBOOK: https://www.facebook.com/taberextrusions/
TWITTER: https://twitter.com/taberextrusions