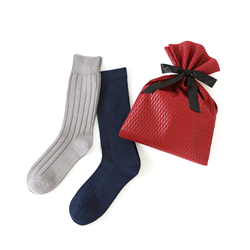 SAN FRANCISCO (PRWEB) January 14, 2019
A new release from leading Japanese sock brand, Tabio, comes just in time to get a special gift for him or her this Valentine's Day with their highly anticipated Valentine's Day Gift Set.
Tabio's Valentine's Day Gift Set includes your choice of either two pairs of Tabio's premium cotton socks or two pairs of luxurious wool socks for your loved one. The Men's Cotton Gift Set features the exclusive Tabio USA release, the Wide-Ribbed Crew Socks with its comfortable design and fit that's great for any look. The Women's set includes an exclusive new release for both the cotton and wool sets from the best selling collections in Japan. These "Easy-Fit" socks have a beautiful rich color and provide a relaxed and comfortable fit for your feet. The socks come in basic colors so he or she can match their new gift with any outfit, anytime. The socks will be specially boxed and enclosed in a gift bag.
Despite the fact that socks contribute to everyday comfort and health, they are often overlooked as gift options. People rarely buy high-quality durable socks for themselves. Gifting high-quality socks for special occasions allows you to give a little extra comfort and luxury that your loved ones otherwise would not have.
With Tabio's new socks sets, you can indulge your partner with the highest quality and most practical gift. With premium wool or cotton, these socks are perfect for his or her wardrobe allowing them to feel the difference between regular old socks and Tabio.

Men's Cotton Sock Gift Set
Price: $35.00
Includes: All-Rounder Cotton Crew Socks, Cotton Wide-Ribbed Crew Socks (NEW)
Size: M, L
Made in Japan
Price:$38.00
Includes: Aran Cable Knit Wool Crew Socks, Extra Fine Merino Wool Crew Socks
Size: M, L
Made in Japan
Women's Cotton Sock Gift Set
Price: $35.00
Includes: Cotton 2x2 Rib Short Crew Socks, Easy-Fit Cotton Short Crew Socks (NEW)
Size: M, L
Made in Japan
Women's Wool Sock Gift Set
Price: $38.00
Includes: Jacquard Cable Knit Wool Crew Socks, Wool Rib Crew Socks (NEW)
Size: M, L
Made in Japan
For those looking to give a little more Tabio craftsmanship and outstanding quality this Valentine's Day, you can find all of our featured collections on the Tabio USA website. The Valentine's Day Gift Set will be available from January 14th, 2019 on tabiousa.com.
For product imagery, download from here.
About Tabio
Producing over 30 million pairs of socks annually, Tabio is the No. 1 sock brand in Japan, with over 270 stores in Japan and 4 stores globally. Tabio's revolutionary approach to improving Japanese craftsmanship, quality, and comfort employs some of the rarest machinery, techniques, materials, and yarns in the world. Their attention to detail, like stitching pressure and room temperature, has allowed them to create consistently perfect socks for the past 50 years. Still today, only the best materials go into their socks. Tabio prides themselves on the crafting of each pair of socks with your comfort in mind.